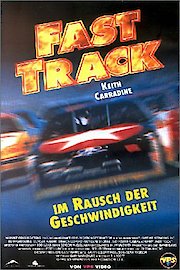 Watch Fast Track
TV-14
1997
1 Season
Fast Track is an action-packed television series that aired in 1997. The show follows the story of three racing drivers who take part in the high-speed and dangerous world of auto racing. The main character, Jack Tracy (played by Keith Carradine), is a former Formula One driver whose career was cut short due to an accident on the track. He now works as a test driver and advisor for a racing team, but he longs to get back on the track himself. His chance comes when he is recruited by a team owner to drive one of their cars in their bid to win the championship.
Joining Jack on the team is his former rival, Brazilian driver Luiz Santos (played by Duncan Regehr). Luiz is a flamboyant and charismatic driver whose reckless driving style often puts him in danger. He and Jack have a history of clashes on the track, but they must learn to work together if they want to win the championship.
The third member of the team is Sarah Davis (played by Brandy Ledford), a talented driver who is determined to prove herself in a male-dominated sport. She is the only female driver on the team and faces sexism and discrimination from some of her competitors. But with her skill and determination, she is determined to show that she can compete with the best of them.
Together, Jack, Luiz, and Sarah face a series of challenges on the track as they try to win the championship. They must navigate treacherous turns, avoid crashes, and outsmart their opponents. Along the way, they also face personal challenges and rivalries that threaten to tear the team apart.
The show features plenty of high-speed racing action, with thrilling car chases and heart-stopping crashes. But it also explores the personal lives of the characters, delving into their struggles and insecurities. Jack, Luiz, and Sarah must confront their own demons and learn to work together if they want to achieve their goals.
The show's cast is led by Keith Carradine, known for his roles in films like Nashville and The Duelists. He brings a brooding intensity to his role as Jack Tracy, capturing the character's determination and grit. Duncan Regehr is equally impressive as Luiz Santos, playing the character with a devil-may-care attitude that masks his true feelings. Brandy Ledford shines as Sarah Davis, bringing a fierce dedication to the character and making her a standout in a male-dominated world.
The show's production values are high, with impressive racing scenes and well-choreographed action sequences. The cinematography captures the intensity and excitement of the racing world, with fast-paced camerawork and dynamic editing.
Overall, Fast Track is an exciting and entertaining show that offers a unique look at the world of auto racing. It's a fast-paced thrill ride that will keep viewers on the edge of their seats, while also exploring the personal struggles of its characters. With a talented cast and impressive production values, it's a must-see for fans of action-packed television.
Fast Track is a series that is currently running and has 1 seasons (22 episodes). The series first aired on August 2, 1997.