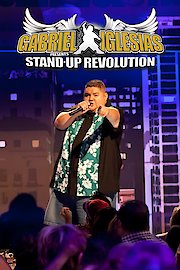 Watch Gabriel Iglesias Presents: Stand Up Revolution
TV-14
2011
3 Seasons
Gabriel Iglesias Presents: Stand Up Revolution is a comedy showcase that aired on Comedy Central in 2011. The show was produced by FLUFFY, INC., and hosted by the renowned comedian Gabriel Iglesias. The series offered a platform for some of the most talented and up-and-coming comedians to showcase their stand-up comedy.
Gabriel Iglesias chose Martin Moreno as his co-host for the show, given Moreno's experience as a stand-up comedian and co-writer of Gabriel's live performances. The two of them provided a hilarious and energetic introduction to each episode, and would often joke around about their own lives.
One of the things that made Stand Up Revolution stand out is how it not only featured established comedians, but also highlighted some lesser-known talents. Each episode introduced three comedians: one comedian who had not yet gained much recognition, one comedian who was recently discovered, and an established comedian.
The show's production team also made sure that each episode was fun, lively, and engaging. The stage was set in a spacious nightclub in Los Angeles, with a live band called Ozomatli providing the music. The band's dynamic energy complemented the comedians' performances and kept the audience entertained in between sets.
One of the most notable things about Stand Up Revolution is the way it showcased comedy from so many different perspectives. The comedians on the show came from all walks of life, and their routines touched on everything from family dynamics to political issues. The diversity of the comedians and their material made the show an exciting and insightful experience for viewers.
In addition to showcasing the comedians' performances, the show also offered a backstage look into what goes on behind the scenes. The camera crew would often capture the comedians' candid conversations as they prepared for their performances. These moments added a personal touch to the show, and made it feel like the viewers were getting to know the comedians on a more personal level.
Another highlight of the show was its guest appearances. Gabriel Iglesias invited a diverse selection of celebrities to join him and Martin Moreno on stage. Some of the guests included fellow comedians like Russell Peters and Tommy Chong, as well as TV personalities like Larry King and E! News host, Giuliana Rancic. Their presence added an extra layer of excitement to the show and provided viewers with some hilarious and unexpected moments.
Overall, Gabriel Iglesias Presents: Stand Up Revolution was a fantastic addition to the world of comedy TV shows. With its energetic host, diverse selection of comedians, lively set, and exciting guest appearances, it was a show that appealed to viewers of all ages and backgrounds. Whether you're a hardcore comedy fan or simply looking for a laugh, you won't be disappointed by this series.
Gabriel Iglesias Presents: Stand Up Revolution is a series that is currently running and has 3 seasons (18 episodes). The series first aired on October 6, 2011.