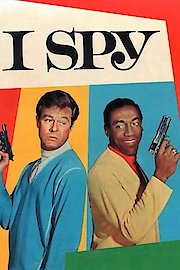 Watch I Spy
1965
3 Seasons
I Spy is an American television show that aired from 1965 to 1968. Starring Robert Culp and Bill Cosby, the show follows the adventures of two American secret agents, Kelly Robinson and Alexander Scott, as they travel around the world on various missions. The show begins with Robinson and Scott being sent off to exotic locations to carry out assignments for the US government. They meet a wide range of characters along the way, from wealthy socialites to dangerous criminals. They also encounter many cultural differences and often find themselves in bizarre and unexpected situations.
Throughout each episode, Kelly and Scott use their wits and stealth to complete their tasks, often finding themselves in high-stakes situations that put them in danger. However, they always manage to overcome their obstacles thanks to their resourcefulness and the strong bond between them.
One of the defining characteristics of I Spy is the relationship between Kelly and Scott. The two of them have a strong bond and a deep trust in each other, often relying on their sense of humor to keep spirits up during difficult situations. The dynamic between the two actors is a highlight of the show, and their on-screen chemistry remains a classic aspect of the series.
In addition to the exciting plots and action sequences, I Spy was also notable for breaking barriers in terms of race relations on TV. Bill Cosby's character, Alexander Scott, was one of the first black lead characters on a US network series, and the show was praised for depicting an interracial friendship at a time when it was still a controversial topic.
The show also made waves for its innovative use of filming locations. Unlike most television series at the time, I Spy was shot entirely on location rather than on a soundstage, which gave the show a unique look and feel. The show often traveled around the world, with episodes filmed in exotic locations like Japan, Spain, and Greece, which added to the sense of adventure and excitement.
I Spy was wildly popular during its run, and it earned numerous awards and accolades. It was nominated for 14 Emmy awards and won three, including outstanding drama series in 1967. The show also spawned a spin-off series called The Cosby Show, which starred Bill Cosby and ran from 1984 to 1992.
Overall, I Spy is widely considered a classic spy series and a groundbreaking piece of television history. Its exciting storylines, memorable characters, and innovative filming techniques made it an instant hit with audiences and a lasting icon of the 1960s.
I Spy is a series that is currently running and has 3 seasons (95 episodes). The series first aired on September 15, 1965.