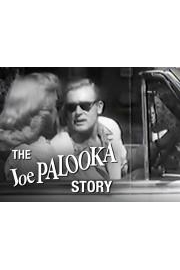 Watch Joe Palooka Show
Joe Palooka Show is an American animated television series that aired from 1954 to 1961. The show was based on the comic strip that began in 1930 by cartoonist Ham Fisher. The story revolves around Joe Palooka, a heavyweight boxer who fights for justice and helps people in need.
The show's opening theme song "Here comes Joe Palooka, what a fighter, he'll go places and do things right," sets the tone for the show as Joe is depicted as a strong character with impeccable moral values. The protagonist is shown to be a kind-hearted, simple-minded, and athletic person who possesses an incredible amount of strength.
Joe Palooka's adventures usually take place in the fictional town of Rocky Canyon. He is constantly running into trouble, fighting off villains, and helping those in need. Joe is helped by his loyal girlfriend, Ann Howe, his trainer Knobby Walsh, and his lovely dog, Joe Palooka Jr.
The series is geared towards children, but its themes of good versus evil and doing the right thing resonate with viewers of all ages. The show also educates its young viewers on various subjects such as the importance of exercise, the value of hard work, and the dangers of drugs.
The animation of the show is typical of its time period. The characters are simple and often lack detail. The animation style is reminiscent of other popular animated series from the 1950s such as The Flintstones and The Jetsons. The background designs are fairly basic and often don't have much detail either.
The voice acting in the show is decent but nothing outstanding. The characters' voices tend to be stereotypical of their roles. For example, Joe Palooka has a deep and gruff voice while his girlfriend Ann Howe has a high-pitched and sweet voice. The show's music is primarily limited to the opening and closing theme songs, but they are memorable and fit in well with the show's style.
One aspect of the show that stands out is its moral values. Joe Palooka is a hero who always tries to do the right thing, even when it is difficult. The show emphasizes the importance of being kind, honest, and generous. Each episode usually centers around a moral lesson that Joe learns or teaches to those around him.
Overall, the Joe Palooka Show is a classic animated series that, although lacking in state-of-the-art animation, delivers a strong message of morality and kindness to its viewers. The show's appeal lies in its wholesome nature and its easy-to-follow storylines that are suitable for children. The show may hold a nostalgic appeal for older viewers who grew up watching it or reading its comic strip. For those who have not seen the show, it is certainly worth a watch for its positive themes and its endearing characters.
Joe Palooka Show is a series that is currently running and has 1 seasons (4 episodes). The series first aired on December 1, 2017.