Lidia's Italy
Lidia's Italy is a food show based on Italian cuisine. The show is hosted by Lidia Bastianich who shares her favorite Italian recipes with her audience. The recipes featured on her show range from old world main dishes such as Lasagna and chicken parmigiana, to tasty treats such as chocolate star cookies. Every episode will feature Lidia in the kitchen preparing the foods she has chosen for that episode. As she prepares the dish, she goes through each step and tells the viewing audience exactly which ingredients she is adding and in what quantities she is adding them.
In addition to talking about the dish she is preparing, Lidia often adds interesting bits of information about the history of the dish or some of the traditions associated with serving it. Many of the foods she prepares are recipes which have been handed down in her own family. On some shows she has her grandchildren helping her in making certain dishes. The kids help roll up dough to form some of the traditional Italian cookies.
Lidia also makes frequent trips back to Italy which are taped and added into her show. The taped segments always pertain to some food or ingredient she will be working with on the show. She might visit a local farm in Italy where cheese is produced. She will discuss the cheese making process with the farmer who shares his knowledge and expertise on the subject. When the show returns to Lidia's kitchen she will begin making the dish which will contain the same cheese that was shown in the taped segment.
Lidia has a rich heritage in the Italian culture which gives her insights into preparing dishes with authenticity. Not only does she share recipes and background information, she also offers a lot of helpful advice in meal preparation and cooking. Some helpful tips can include how to tell when pasta is done and how to brown meats before adding them to main dish casseroles. Lidia also offers helpful information about the proper tools to use for food preparation, which includes using the right cookware for the type of dish being prepared.
3 Seasons,

78

Episodes

April 7, 2007

/

10

Cast:

Lidia Bastianich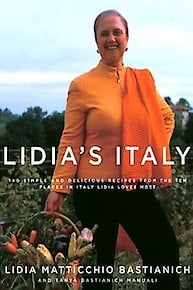 Lidia's Italy Full Episode Guide
Episode

26

-

Conquering Cauliflower

In Lidia's kitchen today, she makes Gemelli with Cauliflower "a simple, delicious and healthy dish" as well as simple Fresh Pasta Squares with Beans and Bacon.

Episode

25

-

Sweet and Spicy Calabria

Lidia prepares some fantastic Calabrian dishes, including her Sweet Onion Soup, some Spicy Calamari, and for dessert she makes Sesame Candy.

Episode

24

-

Three Pastas in a Flash

Lidia visits Basilicata and prepares Bucatini with Sausage, Ditalini with Broccoli Rabe, and Rigatoni with Lentils.

Episode

23

-

Gnocchi Sardinian-Style

Lidia visits the island of Sardegna. In the kitchen she pairs malloreddus with a delicious Sausage and Tomato sauce. For dessert, it's a Semolina Pudding with Blueberry Sauce.

Episode

22

-

Rolling Out a Genovese Buffet

Lidia makes stuffed veal breast, or Cima alla Genovese.

Episode

21

-

Grazing in Abruzzo

Lidia visits Abruzzo and makes a farro pasta topped with arugula and ricotta. Following her main course of Lamb with Olives, she creates the deliciously fun Scrippelle which look like fettuccine and tosses them in a hot caramel, citrus and apricot sauce

Episode

20

-

Terre E Mare

Lidia visits Le Marche. In the kitchen she prepares Spaghetti with Clam Sauce along with a Ziti with Tuna "Ascoli" Style. Lidia also prepares a delicious Zucchini and Olive side dish.

Episode

19

-

Simmering Chicken in Beer

Leave it to Lidia to bring the beer back to the kitchen, using it in a simple Chicken with Beer recipe. She'll also prepare Dumplings with Speck and a Celery Root and Apple Salad.

Episode

18

-

From a Valle D'Aosta Oven

Lidia visits Valle d'Aosta and makes a heartwarming Beef, Potato, and Cabbage Casserole followed by Bread and Fontina Cheese Soup.

Episode

17

-

Airy Pasta Pillows

Lidia visits Bologna and prepares Fresh Pasta Dough; a pasta filling of Squash, Chard, and Ricotta; and demonstrate how to make a few typical pasta shapes, including tortelli, cappellacci, and tortellini.

Episode

16

-

Yodeling in the Alto Piano

Lidia visits Trentino Alto Adige and cooks Fried Potato and Celery Root Dumplings as well as Beef Rolls with Mustard and Vegetables.

Episode

15

-

Breaking the Bread

Lidia visits Umbria and cooks a simple Baked Fish with Savory Breadcrumbs and a Chocolate Bread Parfait.

Episode

14

-

The Umbrian Twist

Lidia learns about strangozzi in Umbria and prepares two deliciously simple sauces: Tomato Sauce with Bacon and a Chard and Almond Sauce.

Episode

13

-

From Wine to Chocolate

Lidia visits Valle d'Aosta and makes Polenta with White Beans and Black Kale, a Beef Fillet with Wine Sauce, and a scrumptious Chocolate Biscotti Pudding.

Episode

12

-

Fontina Hot and Cold

Lidia visits Valle d'Aosta to learn about Fontina cheese. This episode features Veal Chops with Fontina, a delicious Fondue Valle dAosta-Style, and a great Roasted Pepper and Olive Salad with Fontina and Creamy Mustard Dressing.

Episode

11

-

Amber Waves of Pasta

Lidia visits Bologna. In the kitchen, she prepares fresh tagliatelle with white meat sauce and a delicious walnut pesto.

Episode

10

-

Flora and Fauna

Lidia visits Le Marche. Back in the kitchen, she makes lamb chunks with olives as well as a stuffed quail in parchment.

Episode

9

-

Braising Beef With Beer

Lidia visits northern Italy to learn about the Italian beer scene. Back in the kitchen, she makes beef chuck braised in beer, whole grain spaetzle, and delicious baked apples.

Episode

8

-

Weeknight Stovetop Chicken

Lidia visits Le Marche to learn about olives. Back in the kitchen, she makes a quick and easy chicken with olives, pine nuts, and celery steamed in a skillet for a tasty weekday meal.

Episode

7

-

Milano Classico

Lidia heads to Milan and Bergamo, where she meets up with an old friend, and Cody Hogan of Lidia's Kansas City stops by the kitchen to share some of Lidia's favorite Milanese dishes.

Episode

6

-

Stuff It Your Way

Tanya gives viewers a taste of the town of Gubbio and Lidia makes torta al testo and a veal scaloppini with prosciutto, garlic, and anchovy fillets.

Episode

5

-

Umbria Family Jewels

Lidia learns about wine in Umbria and makes sausage in the skillet with grapes, meatballs in broth, and honey orange crumb cookies.

Episode

4

-

Sunday Dinner in Emilia-Romagna

Lidia learns about Prosciutto di Parma and makes anolini in chicken broth and veal scaloppine Bolognese.

Episode

3

-

You Say Tomato, I Say Apple

Lidia visits Trentino Alto Adige and makes tomato and apple sauce with spaghetti, a salad of cauliflower and potato, and sweet ricotta dumplings with strawberry sauce for dessert.

Episode

2

-

Notto Risotto

Lidia makes rice with butternut squash, rice with fresh sage, and traditional rice with chicken.

Episode

1

-

Everyday Roasted Duck

Lidia visits Lombardy and makes crispy roasted duck, rice with lentils, and an almond cake.
Episode

26

-

That's How the Cookie Crumbles

Lidia and Tanya tour Padova, a city that is still very much as it was back in the days of the Bard.

Episode

25

-

Heavenly Baccala

Lidia turns preserved salt cod into a creamy baked topping for polenta.

Episode

24

-

The Serendipitous Celery

We're off to Puglia, where Lidia visits with Chef Zito of the restaurant Antichi Sapore to do some wild herb foraging in the Masseria.

Episode

23

-

Stretch, Stuff, and Roll

We return to Lidia's roots when we visit San Saba, Lidia's ancestral family home in Pula.

Episode

22

-

Italian Austrian

Joe and Tanya visit the melting pot that is Trieste...and learn of the city's role as a cultural crossroads.

Episode

21

-

Hazelnut Haven

It's time to toast to the hazelnut as Lidia heads to Piemonte for the beloved fall harvest.

Episode

20

-

The Goose of It

Lidia heads home to Istria where she is joined by Tanya, who shows you the beautiful architecture of Groznjan and Motovun.

Episode

19

-

Istrian Seafood Stew

It's an adventure on the Adriatic when Joe gives a guided tour of the fishing boats and markets of Trieste.

Episode

18

-

Tajarin, Yellow As Gold

Experience the richness of the Langhe region as Lidia travels to Piemonte.

Episode

17

-

Best Foccacia Ever

It's time to bake with Lidia! In Altamura, Lidia demonstrates the traditional methods of bread-making.

Episode

16

-

The Farro Story

Lidia celebrates Puglia, Italy's horn of plenty.

Episode

15

-

To Crumb or Not to Crumb

Lidia travels to Treviso to learn of the city's two treasures: beautiful architecture and even more beautiful radicchio.

Episode

14

-

Risotto Fresh and Greens

Lidia travels to Friuli to learn the basics of Montasio cheese-making.

Episode

13

-

Tender Pork Chops, Loose Polenta

Lidia travels to Friuli to learn all about polenta.

Episode

12

-

Stack Those Cannoli

Joe gives a lesson in the art of the Italian aperitivo.

Episode

11

-

Sicilian Street Food

Lidia hits the streets of Palermo to taste the some of Sicily's classic street food.

Episode

10

-

Eggplant and Tuna Alla Siciliana

Today its a trip to Sicily, where the old ways of both fishing and puppetry have been preserved.

Episode

9

-

Sausage Alla Romana

Lidia explores Rome through the eyes of a vegetarian, paying special attention to the wonderful produce and cheese that Roman cuisine has to offer.

Lidia samples the flavors of the sea with the fishermen of Gaeta and the flavors of the land in the marketplace in Rome.

Lidia visits the bustling city of Rome where she shops for some of its best-known ingredients.

Episode

6

-

Vegetarian Rome

Lidia heads into the woods of Maremma where she discovers such treasures as wild boar and porcini mushrooms.

Episode

5

-

Sea and Land Roman Way

Lidia travels to Maremma to learn about one of Italy's great grating cheeses: Grana Padano.

Episode

4

-

Maremma Chard Pillows

Lidia samples the rustic food and wine of the Maremma region with Joe.

Lidia travels to Naples to experience the art of pastry-making. Back in the kitchen, she whips up pizzelle-the perfect pastry pocket-stuffed with escarole and sausage.

Episode

2

-

Rolling With Nonna Lisa

Viewers get a taste of family history when Lidia visits Gaeta and spends time with Corrado's Nonna Lisa. There she learns the secrets to the perfect tiella, a cousin to deep dish pizza.

Lidia heads to Naples to discover the secrets of the wine of Feudi di San Gregorio, a region with its own unique soil.