The Wiggles
The Wiggles is an Australian, live action, children's television show featuring members of band of the same name. The stars of the show are yellow Wiggle Greg (Greg Page), the always hungry blue Wiggle Anthony (Anthony Field), guitar-loving red Wiggle Murray (Murray Cook), and the sleepy purple Wiggle Jeff (Jeff Fatt). They're joined on the series by friends Dorothy the Dinosaur, Captain Feathersword (Paul Paddick), Henry the Octopus (voiced by Fatt), and Wags the Dog.
The first version of the series is broken down into various segments. It begins with a musical number from the band's earlier albums, then followed by a segment with Dorothy the Dinosaur narrating over an activity performed by various children. Next, the members of band are featured in a segment dealing with various themes such as friendship or helping prepare for a party. Another musical number split this up from the next section of the show - a story starring Henry the Octopus. Henry's segment is immediately followed by a comedy scene pairing up Captain Feathersword and Wags the Dog. After a final musical number, the end credits run over a high speed romp between The Wiggles and the rest of the cast.
The second series of The Wiggles is less regimented than the original. Rather than four different segments, this version of the series sometimes focuses on one storyline, and while the Wiggles are involved they sometimes aren't the main stars. In addition, a new character was introduced, Officer Beaples (Leanne Halloran) and more focus is placed on The Wiggles more recent songs.
The Wiggles premiered in May 1998 on Australia's Channel 7. A few years later it debuted in the United States on The Disney Channel.
Daily 6:00 AM et/pt on PBS

1 Season,

10

Episodes

January 1, 2007

/

10

Cast:

Murray Cook

,

Jeff Fatt

,

Anthony Field

,

Greg Page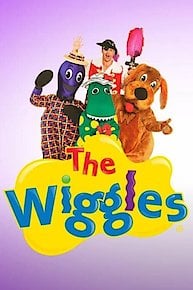 The Wiggles Full Episode Guide
Episode

10

-

Wiggles: Space Dancing

2,1...Blast off with the Wiggles to outerspace! The popular Aussies are more animated than usual when they discover what they look like in Jeff's dreams. It's an out-of-this-world experience when a spaceship with aliens lands nearby. Captain Feathersword launches The Wiggles light - years from home to Planet Rock Star, where they join King Mondo for some rockin' and rollin' and wigglin'! Teeny Weeny Land is their next stop in the galaxy where they dance a jig with their tiny extraterrestrial friends. Next, their rocket zooms through spaced to Gloomy World, where their wiggly humor cheers up the Gloomies. Final destination? Home to Wigglehouse, of course! SONGS The Zeezap Song What's This Button For? Eagle Rock (Featuring Ross Wilson) Dance The Gloomies Away Going Home Fergus Jig

Episode

9

-

Wiggles: Santa's Rockin

Ring-a-ding-dong!The bells are ringing for Christmas Day and The Wiggles are joined by the "Great Big man in Red," Santa Claus! Santa's goin "All Over The World" to rock and roll with his very special guest, John Fogerty! Wahoo! Wags can't stop barking with excitement as Barry Williams adds a very Brady Touch to the dancing! Henry the Octopus is the champion Christmas wrapper, and Dorothy the Dinosaur loves her Christmas roses. Then, celebrate the birth of the Christ Child with special guest King Mando, Fernando, Fernandito and Julio sing "Noche De Paz" in Spanish, and the children make their own nativity scene in "O Come All Ye Faithful." It's time to combine your two favorite things, The Wiggles and Christmas, and tap your mistletoes, everyone, because SANTA'S ROCKIN'!

Episode

8

-

Wiggles: Top of the Tots

It's show time with The Wiggles! The chart-topping Aussies star in Top of the Tots, singing and dancing on the bandstand in the hottest variety show in town! And they've invited Captain Feathersword, Henry the Octopus, Wags the Dog and Dorothy The Dinosaur to wiggle along as they meet a fireman, a dentist, an airline pilot and more! Brand-new showstopping music, endless energy and lots of enthusiastic Wiggling! Now that's entertainment!

Episode

7

-

Wiggles: Wiggly Xmas

Santa may make you giggle, but here's a group guaranteed to make you wiggle! All the way from down under comes The Wiggles, the happiest band in the land, singing and dancing their way through their first ever Christmas video. Join Murray, Jeff, Anthony, Greg and friends as they take you on a sleigh-riding Yuletide sing-along with new holiday tunes and old festive favorites. It's 40 minutes of your favorite Christmas music presented in a unique style that is enjoyable for all ages. So what are you waiting for? Have a Merry Christmas and let the wiggling begin!

Episode

6

-

Wiggles: Live Hot Potatoes!

LIVE HOT POTATOS! Featuring All of Your Favorite Songs Live! SONGS Hot Potato The Monkey Dance Fruit Salad Where's Jeff? Rock-A-Bye Your Bear Can You (Point Your Fingers And Do The Twist?) Toot Toot, Chugga, Chugga, Big Red Car Hoop Dee Doo Lights, Camera, Action, Wiggles! Play Your Guitar With Murray Captain Feathersword Fell Alsleep On His Pirateship (Quack Quack) D.O.R.O.T.H.Y. (My Favorite Dinosaur) Rollin gDown The Sandhills/Running Up The Sandhills Butterflies Flit We're Dancing With Wags The Dog Central Park New York Here Comes The Reindeer Eagle Rock I Wave My Arms And Swing My Baton Christmas Medley

Episode

5

-

Wiggles: Yule Be Wiggling

Christmas time is almost here. It's a time of joy and a time of cheer. But this Christmas, there's sure to be lots of giggling, and with friends from down under, Yule Be Wiggling. There's Greg, Anthony, Jeff and Murray, four great friends without a worry. Instead, they dance and smile and sing. They even make the Christmas bells ring! So hang up your stockings and put up the tree, then prepare for a Christmas full of such glee. The Wiggles will make your holiday bright, Merry Christmas to all and to all a good... wiggle!

Episode

4

-

Wiggles: Whoo Hoo! Wiggly Gremlins!

Some wiggly gremlins are playing funny tricks on T he Wiggles and their friends! Captain Feathersword is left in charge of the TV studio with Dorothy the Dinosaur, Wags the Dog and Henry the Octopus. Things don't work out as planned, but it's a lot of fun building a set, dressing up and singing and dancing with The Wiggles and their friends! SONGS Camera One Gulp Gulp Testing One, Two, Three Bit By Bit (We're Building A Set) Vegetable Soup Hats Music With Murray Lights, Camera, Action, Wiggles! Dressing Up Where's Jeff? Anthony's Workshop

Episode

3

-

Wiggles: Racing to the Rainbow

Here Comes The Chicken Bump-A-Deedle Music Box Dancer Shakin' Like A Leafy Tree Run, Run, Run Away (A Storm Is On Its Way) Teddy Bear's Big Day Out Rainbow Of Colors Blow Up Your Ballloon (Huff And Huff And Puff) The Chew Chew Song The Princess Of The Sea Benny Put The Kettle On Baa-Baa Black Sheep Do The Daddy Long Legs Stamp Your Feet (To The Heavy Beat) Here's A Bird! What A Bird! The Tra-La-La Song Huddle, Huddle, Huddle Along (The Football Song) The Wheels On The Bus Go To Sleep Jeff (Brahms' Lullaby) Row, Row, Row Your Boat Rockin' On The Water Five Little Ducks Everybody Dance!

Episode

2

-

Wiggles: Wiggly Safari

Episode

1

-

Wiggles: WiggleDancing! Live in the U...

Each year, The Wiggles perform to sold-out crowds on their USA tours with shows in Los Angeles, New York and cities in between! Now, The Wiggles bring the magic of their live show to your living room with Wiggledancing!, filmed at Conneticut's Chevrolet Theater. SONGS Toot Toot, Chugga Chugga, Big Red Car Look Both Ways Rock-A-Bye Your Bear Lights, Camera, Action, Wiggles! Move You Arms Like Henry Can You (Point Your Fingers & Do The Twist?) Music Box Dancer Hoop Dee Doo The Monkey Dance Brown Girl In The Ring Fruit Salad Sailing Around The World Wiggle Bay Swim Like A Fish Mop Mop Dancing In The Sand Agapame Tin Athena (We Love Athens) Bow Wow Wow Play Your Guitar With Murray Sydney Barcarolle Dorothy (Would You Like To Dance With Me?) Captain Feathersword Fell Asleep On His Pirate Ship (Quack Quack) Hot Potato Wiggly Medley
If You Like The Wiggles, Then Try...