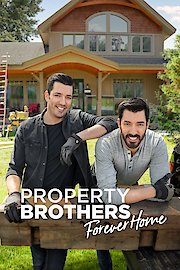 Watch Property Brothers: Forever Home
TV-G
2019
8 Seasons
Property Brothers: Forever Home is a popular home renovation and design show that premiered on HGTV in 2019. The show stars identical twin brothers Jonathan Scott and Drew Scott, who are known for their expertise in real estate, construction, and interior design. Unlike their previous show Property Brothers, which focused on purchasing and renovating rundown homes, Property Brothers: Forever Home features families who have already found their forever home but need help with renovating or updating it to better suit their needs and lifestyle.
Each episode of the show features a different family who is in need of a home renovation. The Property Brothers meet with the family to learn about their daily routine, preferences, and what improvements they would like to make in their home. They then draft a plan to remodel the house that incorporates the family's personal tastes and addresses any problem areas.
The brothers work with the homeowners to give them the renovation of their dreams while staying within their budget. Jonathan handles the construction work and renovation, while Drew takes on the interior design and decor. With their combined expertise, the brothers transform the home into a beautiful and functional space for the family to enjoy for years to come.
One interesting aspect of Property Brothers: Forever Home is that it shows the emotional journey that homeowners go through during a renovation. The show highlights the challenges that come with renovating a home and the sentimental value that it holds for the family. The Property Brothers recognize the importance of these emotions and strive to make the renovation process as stress-free and enjoyable as possible for their clients.
Another unique feature of the show is that it focuses on the importance of sustainability and eco-friendliness in home renovations. The Property Brothers often incorporate energy-efficient appliances, sustainable materials, and recycling practices into their renovations to minimize the environmental impact and create a healthier living space for the family.
Overall, Property Brothers: Forever Home is an engaging and heartwarming show that showcases the Scott brothers' talents in construction and design while helping families create their ideal forever homes. The show is both entertaining and informative, offering tips and ideas for viewers who are interested in home renovation or design.
Property Brothers: Forever Home is a series that is currently running and has 8 seasons (127 episodes). The series first aired on May 29, 2019.