Prospectors
Prospectors is a documentary-style reality television series that explores the world of prospecting. It follows a group of professional miners as they explore Colorado mining country in search of precious gemstones while simultaneously combating wicked weather and treacherous terrains. The cast is separated into four groups of prospectors: two families that make mining their business, a former model, and a father of two. The series tracks their journey with story lines occasionally intertwining. Colorado
Tuesday 9:00 PM et/pt on Weather Channel

4 Seasons,

40

Episodes

March 26, 2013

/

10

Cast:

Amanda Adkins, Joe Dorris, Denny Heide, Krystle Dorris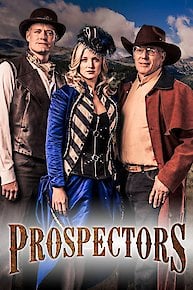 Prospectors Full Episode Guide
Episode

9

-

Ladies Love Aqua

The Dorrises commence on Krystal's first mining claim; Rich discovers a huge smoky quartz crystal; and Amanda and Jessica strike a big pocket.

Episode

8

-

Colorado Kryptonite

The Cardwells discover their biggest hit yet; Rich finds out what gems the Agnus Dei may have; and Dwayne finishes out Mount White.

Episode

7

-

Blue Moon Mining

The prospectors labor all night by the light of the moon; the Busse family finds their greatest aqua; the Cardwells start on an old pocket Craig's granddad discovered; and Rich returns to the Agnus Dei searching for topaz.

Dwayne attempts to settle his issue with the mountain that took his earnings; Rich prospects under ground; and the Dorrises have a great time betting it all at the Smoky Hawk.

Episode

5

-

Phantom Flourite

The Dorrises try a new spot; Amanda and Jessica work on Mount White; Rich goes underground looking for rare quartz; and Dwayne digs at an old buried location.

Episode

4

-

Cripple Creek Crystals

The prospectors come up against a terrible storm and possible flash floods. Meanwhile, Rich travels far underground to discover a mystery mineral sample.

Episode

3

-

Mining in the Clouds

Storms get in the way of the prospectors' payday; Dwayne and his group search for aqua; the Dorrises go back to the Smoky Hawk; the Busses withstand injury and bad weather; and the Cardwells strike large.

Episode

2

-

500 Carats by Lunch

Storms in the spring bring destruction. Also, Dwayne puts together a team to conquer Mount White; Rich comes up against a 20-ton dilemma; and the Busse and Cardwell clans go back to Mount Antero.

Episode

1

-

Rock Beats Blizzard

Snowstorms wreak havoc for the prospectors. Also, Dwayne goes underground looking for silver; Amanda and a new mining partner wish to hit the jackpot; and the Dorrises trudge through mud.
Topaz is featured on the show.

Episode

9

-

Million Dollar Rocks

The Busses go underground to find gold.

Episode

7

-

Rain, Rain, Go Away

The Busses deal with hail while digging for aquamarine. The Dorries try to avoid cave-ins on their quest for fluorite.

Episode

6

-

Lightning Rod

Episode

4

-

The Big Score

The arrival of autumn marks the beginning of the selling season for the Dorris and Busse families.

Episode

3

-

The Big Gamble

Amanda searches for aquamarine in a dangerous spot. The Dorrises dig for topaz near Lake George.

Episode

2

-

Risky Business

Amanda introduces Travis to her father; and Rich tunnels back into his topaz pocket. Heavy rains create dangerous mining conditions.

Episode

1

-

Ridin' the Pain Train

Life on the mountain has never been as hard! Follow our favorite gem hounds as they face tornadoes, claim jumpers and so much on the all new season of Prospectors!