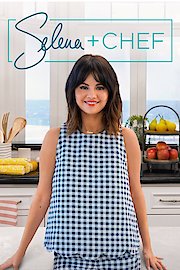 Watch Selena + Chef
TV-PG
2020
4 Seasons
Selena + Chef is a cooking show on HBO Max featuring international pop sensation Selena Gomez as she navigates the kitchen with the help of professional chefs. With the help of Alonzo B. Slater and Nyesha Arrington, Selena dives into different recipes each episode and learns new techniques to enhance her cooking skills.
In each episode, Selena connects with her chef via video chat, and the two work together while cooking in their respective kitchens. The show brings together Selena's love for food and cooking with her desire to learn new recipes and skills from some of the top chefs in the industry.
Throughout the series, Selena demonstrates her willingness to tackle new challenges and learn from her mistakes. Each episode focuses on a different theme, such as breakfast or seafood, and features a corresponding menu with dishes ranging from simple and approachable to more complex and challenging.
One unique aspect of the show is its emphasis on using ingredients that viewers likely have already in their kitchens. This makes the recipes accessible to a broad audience and removes some of the intimidation factor that can come with cooking at home.
At times, Selena's lack of experience in the kitchen leads her to make mistakes, but the chefs are always there to provide guidance and support. Additionally, the show emphasizes the importance of safety in the kitchen and provides helpful tips on how to avoid accidents and injuries while cooking at home.
Another highlight of the show is the opportunity to learn about the personal stories and cooking styles of each chef featured. Alonzo B. Slater and Nyesha Arrington, along with other guest chefs throughout the series, share their unique perspectives on food and cooking, and offer valuable insights into their own culinary journeys.
Overall, Selena + Chef is a fun and engaging cooking show that offers great entertainment value while also teaching viewers useful skills and techniques in the kitchen. The show highlights the importance of experimentation, learning from one's mistakes, and the joy that can come from sharing food with others.
Selena + Chef is a series that is currently running and has 4 seasons (40 episodes). The series first aired on August 13, 2020.