Unexplained
The world is filled with unexplained mysteries. Many people are drawn into these mysteries and they are curious as to why these things happen. This documentary series explores mysteries and the humans impacted by these mysteries. There is one season of this show and it is filled with interesting mysteries that will draw viewers in.
1 Season,

3

Episodes

December 20, 2008

/

10

Cast:

Tony Robinson, Becky McCall, Chris French, Roy Stemman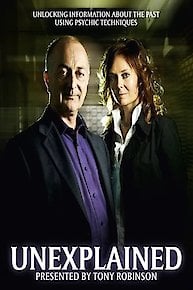 Unexplained Full Episode Guide
Episode

3

-

Medieval Reincarnation

In the 1960s, a group of people claimed to have undergone a 'mass reincarnation' of the Cathars of old. Were their dreams true visions of a past life? Or were they merely victims of false memory implantation?

Episode

2

-

The Blitz Witch

Tony and Becky investigate the case of Helen Duncan, the World War II psychic who was one of the last people to be jailed under the Witchcraft Act of 1735.

Episode

1

-

Ghosts of Glastonbury

Discover the world of automatic writing, a link to memories of the past. Were supernatural forces really behind one of the most controversial archaeological claims of the 20th century?