Walking with Monsters
Walking with Monsters is a documentary series that reveals what life was like on Earth hundreds of millions of years ago. The magic of technology and animation bring long extinct species of animals, including birds, fish and reptiles, back to life to showcase the fight for survival before even dinosaurs existed. Mysterious and well narrated, the show grants viewers a look at some of the amazing and fascinating creatures that walked a world that looked much different than it does today. The show reveals the many challenges facing the creatures and how they attempted to adapt in order to survive.
1 Season,

3

Episodes

December 8, 2005

/

10

Cast:

Kenneth Branagh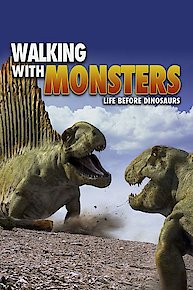 Walking with Monsters Full Episode Guide
Episode

3

-

Clash of Titans

Can life on Earth survive the most devastating extinction-event that has ever swept across the globe? And who will become the forerunner of the mighty dinosaurs?

Episode

2

-

Reptile's Beginnings

The reptiles evolve, and the race for survival continues on land. Giant arthropods lurk in the Carboniferous forest, and sail-backed mammal-like reptiles fight for the survive of their young in the Permian.

Episode

1

-

Water Dwellers

As the first creatures evolve in the seas, the never ending fight between the hunter and the hunted begins. Follow the evolution of life from its small beginning to the first animals to conquer dry land.
Most Popular Walking with Monsters Episodes