Watch Cane
This soapy drama tells the story of two multi-generational Latin American families, the Duques and the Samuels in the rum and sugar business. This series explores the rivalry between the two families as well as the power struggles within the individual families. Cynthia Cidre wrote the pilot and will executive produce alongside Jonathan Prince, Polly Anthony, and Jimmy Iovine.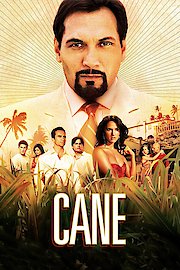 Episode 13 - Open and Shut

Alex is framed for Joe Samuels' murder, forcing him to take things into his own hands and find Samuels' real killer himself.

Episode 12 - The Perfect Son

Jamie is excited that their wedding is approaching, though Alex has heard that Joe Samuels has plan to crash the reception. It's going to be up to Ramon and his buddies to make sure that things go smoothly.

Things take a turn for the worse when a hurricane hits, but when two looters exploit the storm in order to burglarize the Duque home, things become far more dangerous. Meanwhile, Isabelle is trapped in an elevator when the power goes out due to the storm.

Alex heads to the Caribbean for a gambling trip with Ramon and his crew. He begins to become more comfortable with the Cuban gangsters until violence breaks out.

Episode 8 - All Bets Are Off

Episode 7 - One Man is an Island

Episode 4 - Family Business

Episode 3 - The Two Alex Vegas

Episode 2 - The Work of a Business Man
If You Like Cane, Then Try...