Watch Kim Possible
The animated television series Kim Possible follows the adventures of a teenage heroine as she balances her life as a global crime fighter with her school and family life. Christy Carlson Romano voices the series' star, Kim Possible, who battles powerful villains alongside her best friend and sidekick, Ron Stoppable, voiced by Will Friedle.
Kim Possible was created by Robert Schooley and Mark McCorkle. The pilot episode premiered in the U.S. on Disney Channel in 2002, and was nominated for an Emmy award one year later. The show maintained high ratings over the course of four seasons and two made-for-TV movies, making it one of the most popular and longest running series on Disney Channel.
In the series, Kim Possible travels around the world with Ron Stoppable and his naked mole rat, Rufus, as they work to thwart the evil plots of Doctor Drakken and several other recurring villains. In between battling her foes and spending time with her friends, Kim attends Middleton High School, where she is head cheerleader and a straight-A student dealing with typical teenage challenges.
Kim Possible is brave, athletic and highly intelligent. She lives with her parents and younger twin brothers in the town of Middleton. Kim's best friend and next-door neighbor, Ron Stoppable, is awkward and unpopular, but manages to help her on all of her missions, and eventually saves the world himself. He and Kim met when they were young children and grew to become best friends. In the final season of the series, their relationship evolves into a romantic one.
Kim Possible was well received by critics, and nominated for several Emmy awards during its five-year, 87-episode run. In 2005, it won an Emmy for Outstanding Sound Mixing - Live Action and Animation. Although it was originally intended to be a children's series, Kim Possible also garnered many teenage and adult fans over the years. The series ran from 2002-2007.
A production of Walt Disney Television Animation. In the U.S. the series was shown on Disney Channel, Toon Disney and ABC. Each episode lasted 22 minutes and fit into a half hour time slot. The series was distributed abroad by Walt Disney Television Animation.
4 Seasons,

84

Episodes - Ended

4

/5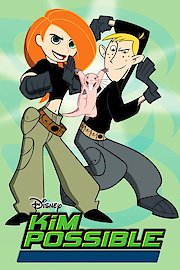 Kim Possible

Full Episode Guide
Season
4
(21 full episodes)
Episode

23

-

Larry's Birthday

Kim plans on throwing her cousin Larry a surprise birthday party, but she has to keep him busy until the party is ready. Meanwhile, Dementor enlists the help of his brother-in-law to steal Kim's battlesuit.

Kim's graduation ceremony is interrupted by alien invaders who abduct her. The dire situation forces her to team up with Ron, Drakken and Shego to fight Warmonga and Warhok, who want to take over Earth.

Episode

21

-

Nursery Crimes; Chasing Rufus

Rufus gets separated from Ron while they are on a mission in Greece and is pursued by Camille's amorous cat; Kim and Ron investigate a nanny academy that is creating an army of super babies.

Episode

20

-

Homecoming Upset

Kim gets jealous when Ron and Bonnie are named homecoming king and queen.

Episode

18

-

Oh No! Yono!

Episode

17

-

The Mentor of Our Discontent

Episode

16

-

Mathter and Fervent

Episode

15

-

Cap'n Drakken

Episode

13

-

Stop Team Go

Episode

11

-

Fashion Victim

Episode

8

-

Clothes Minded

Episode

7

-

Grande Size Me

Episode

6

-

Mad Dogs and Aliens

Episode

4

-

The Cupid Effect

Episode

3

-

Trading Faces
Season
3
(11 full episodes)
Episode

12

-

Team Impossible

Episode

11

-

Gorilla Fist

Episode

10

-

And the Molerat Will Be CGI

Episode

9

-

Rappin' Drakken

Episode

6

-

Dimension Twist

Episode

5

-

Showdown at the Crooked D

Episode

2

-

Emotion Sickness
Season
2
(29 full episodes)
Season
1
(21 full episodes)