Watch Portlandia
Portlandia is a television program based in and around Portland, Oregon (it is also filmed here on location also). The program airs on Independent Film Channel (IFC) and is headlined by former Saturday Night Live cast members Carrie Brownstein and Fred Armisen. The television program has gone onto win numerous awards, including a Peabody.
The production initially started as an Internet based sketch comedy show by the two SNL cast members. They just wanted to have a bit of freedom outside of the stricter realms of broadcast television, so they decided to produce an Internet streaming Web series known as Thunderant. They filmed and based the show out of Portland, and as the Internet series continued, the show became more and more Portland based, with many of the sketches appearing throughout the city. Because of this, the two decided to rename the show "Portlandia."
As the two saw increased viewership with the Internet crowed they decided to pitch the television program to executives at IFC for a full sketch comedy show, based on the same antics and comedy the two do on the Internet based series. IFC purchased the program and it has since signed up for the third season of the show.
There is no real direct storyline with the television show. It, like other sketch comedy shows, such as SNL and MadTV all have different stores and sketches based on events happening in modern pop culture. This is essentially what Portlandia, although most of the sketches occur in different facilities and establishments around Portland. Viewers of SNL are probably familiar with the different filmed segments of the show, not just the live segments. This is basically what Portlandia is. The segments do not go on live but are instead filmed out. Many of the skits have loose dialog, allowing the actors to make most of it up as they go, as long as the reach the necessary tent poles in the story line. With the ability to retake scenes and shots, it gives a bit of a cleaner take on the sketch comedy genre.
Portlandia has received a good amount of success, especially for appearing on a television station such as IFC, which does not have a large viewership. However, with the current cast and excellent writers on staff (including the former head writer for The Colbert Report), there are some rather entertaining and professional writers on staff.
Watch Full Episodes of Portlandia

Season 7 Episode 3
Fred's Cell Phone Co... (21:00)
Season 7 Episode 2
Carrie Dates A Hunk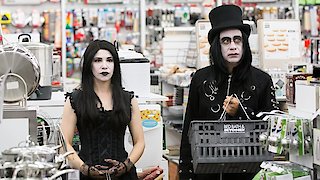 Season 7 Episode 1
The Storytellers
Season 6 Episode 10
Noodle Monster (21:36)
Season 6 Episode 9
Lance Is Smart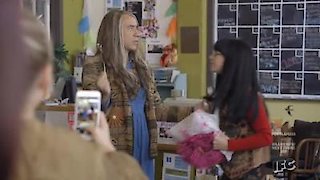 Season 6 Episode 8
First Feminist City

Watch Episodes
News
Clips & Extras
Portlandia

Full Episode Guide
Season
7
3 full episodes, 8 clips available
Episode

4

-

Separation Anxiety

Toni and Candace retire but there is still some unfinished business between them. Drew and Andy re-imagine gingerbread cookies. Peter and Nance try a new protein diet. The rats consider the charms of squirrels.

Episode

3

-

Fred's Cell Phone Company

Fred's new business may have more problematic than successful. Kate and Sam learn the dangers of long distance love. Drew and Andy plan a funeral. Nina gives Lance a massage chair that is a total game changer.

Episode

2

-

Carrie Dates A Hunk

Episode

1

-

The Storytellers

Fred and Carrie seek advice from a storytelling expert; a traveler checks into an unconventional hotel; the weirdos discover a store that specializes in bedding and home beauty products.
Season
6
10 full episodes, 5 clips available
Episode

102

-

Going Gray (Pre-Air Premiere)

Starring Fred Armisen and Carrie Brownstein. Fred wakes up with gray hair and sets out on a journey to find out how old he is. Carrie is faced with a life decision. Guest starring Kyle MacLachlan, Natasha Lyonne, Mitchell Hurwitz and Kumail Nanjiani.

Episode

10

-

Noodle Monster

A tsukemen ramen monster is running wild in Portland. The mayor tries to impress a major brand visiting Portland and hopes Fred and Carrie can help.

Episode

9

-

Lance Is Smart

After Lance gets glasses, he becomes part of an intellectual crowd. Nina hires a tutor to help her impress Lance's new friends.

Episode

8

-

First Feminist City

When Portland is declared the most feminist city in the country, Toni and Candace deal with all the buzz. Meanwhile, the town opens a Femi-Mart.

Episode

7

-

Family Emergency

Louis C.K. is forced to cancel a show in Portland due to a family emergency; Fred and Carrie are asked to judge a plume contest.

Kath and Dave are sidelined after an accident leaves them temporarily disabled. A car service app user avoids surge pricing by calling a cab. Joey lands an internship.

Claire is tired of Doug's childish behavior and ends their relationship. They both begin dating new people and discover unexpected things about themselves.

The Weirdos plan to go to the beach but are delayed when their hearse breaks down.

Fred is desperate for a big change, so he moves to Austin; Carrie experiences motherhood.

Fred wakes up with gray hair and is determined to find out how old he is; the Mayor reminds Carrie about their plan.

In the sixth season premiere, the Flaming Lips are the main attraction for the town's big music festival, which Brendan and Michelle attend via drone.
Season
5
10 full episodes, 19 clips available
Season
4
10 full episodes, 2 clips available
Season
3
11 full episodes, 19 clips available
Season
2
11 full episodes, 28 clips available
Season
1
6 full episodes, 19 clips available
Most Popular Portlandia Episodes
Season 7 Episode 1

The Storytellers

1/05/2017

Season 7 Episode 2

Carrie Dates A Hunk

1/12/2017

Season 1 Episode 1

Farm

1/21/2011
Portlandia News
Watch the Entire 'Battlestar Galactica' Episode of 'Portlandia' Online
IFC has been airing a delightful comedy show called "Portlandia." SyFy has been airing reruns of a delightful sci-fi show called "Battlestar Galactica." What happens when the two combine? You get an episode of "Portlandia" that features Galactica alumni and Jeff Goldblum. The whole episode is online, and you can watch it right here!
Portlandia Video Clips & Extras