Watch Teenage Mutant Ninja Turtles (2003) Online - Full Episodes
Series Length:
1 Seasons,

26

Episodes
Schedule:
Saturdays at 10:00 am on The CW
Description:
Taking place mostly in 2105 New York City, the series deals mainly with plots such as Sh'Okanabo's attempts to unleash the "Day of Awakening"; the Turtles' attempts to expose Darius Dun's criminal activities, acclimate to their new home and return to their own time; and Cody Jones' growth. Due to the multispecies population of the future, the Turtles are now free to move about openly and interact with everyday people. The season is lighter in tone and less violent than previous ones, with a greater emphasis on jokes.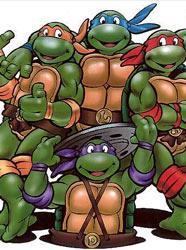 Teenage Mutant Ninja Turtles (2003) News