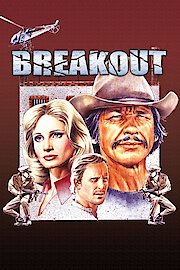 Watch Breakout
"Sentenced to 28 years in prison for a crime he never committed. Only two things can get him out - A lot of money and Charles Bronson!"
PG
1975
1 hr 36 min
44
Breakout is a riveting action-drama-thriller movie that was released in 1975, directed by Tom Gries, and starring Charles Bronson (Jay Wagner), Robert Duvall (Harris Wagner), and Jill Ireland (Ann Wagner). The film is based on a true story about the escape of Mexican political activist Carlos Muñoz Zavala from a Mexican prison in 1971.
The story begins when Jay Wagner, who works as a financial consultant, visits his friend Harris Wagner, who owns a large company that operates in Mexico. Harris allows Jay and his wife Ann to vacation at his luxurious ranch in Mexico. However, things take a dramatic turn when Jay is accused of drug trafficking and is wrongly imprisoned by the corrupt Mexican police. Harris is initially hesitant to get involved, but he soon realizes that Jay is innocent and decides to carry out a daring plan to rescue him from the maximum-security prison.
Breakout is a race-against-time movie that keeps the audience on the edge of their seats. The movie depicts the tense atmosphere in the prison and the unyielding determination of Harris to save his friend. The film is shot in various locations, including Mexico City, Monterrey, and San Luis Potosi, and it showcases stunning landscapes and beautiful cinematography.
Charles Bronson is excellent as Jay Wagner, a man who is thrown into a nightmare and must rely on his friend Harris to escape. Bronson brings his signature intensity to the role, and he delivers a convincing portrayal of a man who is desperate to return to his wife and daughter. Robert Duvall is equally impressive as Harris Wagner, a man who goes to great lengths to rescue his friend and does not give up until he succeeds. Duvall portrays Harris with a no-nonsense attitude and a steely resolve that makes him a force to be reckoned with.
Jill Ireland, who was Bronson's wife in real life, also delivers a memorable performance as Ann Wagner. She brings a touch of vulnerability and sensitivity to the role, and her scenes with Bronson are heartwarming and poignant.
The movie has some well-choreographed action scenes that are both thrilling and suspenseful. The prison break is a standout moment in the movie, and it is executed with precision and skill. The escape sequence through the Mexican desert is also well-shot and keeps the audience on the edge of their seats.
Breakout is a classic action-drama-thriller movie that delivers on all fronts. It has a great story, strong acting performances, and impressive action scenes that will keep the audience engaged from start to finish. It is a must-watch for fans of the genre and a movie that will leave a lasting impression on anyone who watches it.
In conclusion, Breakout is a gripping movie that showcases the acting prowess of Charles Bronson, Robert Duvall, and Jill Ireland. The movie is a testament to the human spirit and the lengths that people will go to save their loved ones. It is a timeless classic that will continue to captivate audiences for generations to come.
Breakout is a 1975 action movie with a runtime of 1 hour and 36 minutes. It has received mostly poor reviews from critics and viewers, who have given it an IMDb score of 6.1 and a MetaScore of 44.