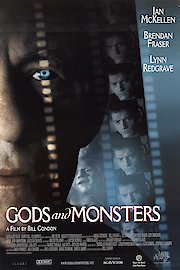 Watch Gods and Monsters
"A portrait of an outrageous friendship."
R
1998
1 hr 45 min
74
Gods and Monsters is a 1998 American drama film which gives a fictionalized account of the last days of the life of James Whale, the director of Frankenstein, Bride of Frankenstein, and The Invisible Man. The film stars Ian McKellen as James Whale, Brendan Fraser as Clayton Boone, and Lynn Redgrave as Hanna, his former housemaid. The movie opens with Whale being asked about his World War I experiences, indicating that he is being interviewed for a project of some kind. It is soon revealed that Whale is living alone in his Hollywood Hills house, isolated and beset by memories of his past. The story then flashes back to 1930's England, where Whale is finishing production on Bride of Frankenstein. The scriptwriter, Clayton Boone, arrives at Whale's home in order to assist with translating a novel into a screenplay. Boone is a strapping World War II veteran, and after some initial wariness, the two men develop a rapport.
As the story progresses, it is revealed that Whale is gay and has a predilection for young, muscular men. He pursues Boone in the beginning but then realizes he will never reciprocate his feelings. Boone is initially taken aback by Whale's advances, but eventually they become close friends, with Whale teaching Boone about art, literature, and sexuality. Their developing relationship is the central focus of the movie.
Whale's memories continue to overwhelm him, and he begins to have trouble distinguishing them from reality. He has vivid flashbacks to his time as an officer in WWI and relives the horrific sights and sounds of the war. Boone tries to distract Whale by taking him to parties and restaurants, but Whale continues to spiral into depression.
As their relationship deepens, Boone learns more about Whale's past, including his previous lover, a young man named Clay who died in a swimming accident. Whale is consumed by guilt and grief over Clay's death and begins to see visions of him. In the end, Whale decides to recreate the swimming incident in a bathtub, thinking that he might be able to find some sort of closure. Boone, who is increasingly concerned about Whale's mental state, tries to stop him but is unsuccessful.
Throughout the film, Whale wrestles with his own sense of mortality and loss. He has lost his creative spark and is overwhelmed by his past. He also confronts the reality of his own failing health, as he suffers from a stroke that leaves him partially paralyzed. Eventually, he comes to terms with his own death and hopes to inspire Boone to continue living after Whale is gone.
Gods and Monsters is a beautifully crafted and poignant film that showcases the talents of its cast and crew. McKellen gives a masterful performance as Whale, capturing both his charm and vulnerability with ease. Fraser, in one of his earliest dramatic roles, is equally impressive as Boone, conveying a sense of earnestness and innocence that gradually gives way to a deeper understanding of life and death. Redgrave rounds out the trio with a touching performance as the loyal housekeeper who remains fiercely dedicated to Whale even as he grows more distant.
The film explores themes of memory, loss, and the struggle for artistic inspiration in the face of mortality. While Whale's fame and success have allowed him to achieve a certain level of immortality, he is still haunted by his past and consumed by his own sense of isolation. His relationship with Boone allows him to rediscover his creative energy and remember the joys of life even as he confronts the inevitability of his own death.
Overall, Gods and Monsters is a must-see film that is both emotionally powerful and visually stunning. It offers a unique interpretation of a Hollywood legend's life and leaves a lasting impression on its viewers.
Gods and Monsters is a 1998 drama with a runtime of 1 hour and 45 minutes. It has received mostly positive reviews from critics and viewers, who have given it an IMDb score of 7.3 and a MetaScore of 74.