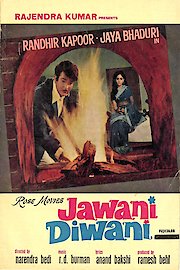 Watch Jawani Diwani
Jawani Diwani is a 1972 Indian Hindi-language romantic drama film directed by Narender Bedi. The movie starred Randhir Kapoor in the lead role, alongside Jaya Bachchan and Balraj Sahni. The film revolves around the life of a young man named Mannu (Randhir Kapoor) who comes to the city to study law. He meets Renu (Jaya Bachchan), a cheerful and friendly girl who lives in his neighbourhood. They both fall in love with each other and start dating. Renu's father, Mr. Khanna (Balraj Sahni), a strict disciplinarian, does not approve of this relationship and tries to put an end to it. He wants his daughter to marry a wealthy and successful man, and not an ordinary law student.
Mannu, determined to win Renu's love, takes up part-time jobs to earn money and impress her father. But Mr. Khanna is adamant and sets up obstacles in their path. Meanwhile, Mannu's friend, Bansi (Paintal), falls in love with Renu's sister, Bijli (Bindu), and they too face opposition from the Khanna family. The story takes a twist when Renu's father gets involved in an accident and needs a large amount of money for his treatment. Mannu takes this opportunity to prove himself to Mr. Khanna and save his life.
Jawani Diwani is a simple, yet heartwarming love story that explores the challenges faced by young lovers and their determination to overcome them. The chemistry between Randhir Kapoor and Jaya Bachchan is palpable and makes for a delightful watch. The movie is set in the 1970s, and the costumes, music, and dialogues transport the viewer back to that era. The songs, composed by RD Burman, are still popular today, especially "Jaane Jaan Dhoondta Phir Raha" and "Nahi Nahi Abhi Nahi."
One of the highlights of the film is Balraj Sahni's powerful performance as Mr. Khanna, the strict father who only wants the best for his daughters. His acting brings depth to the character and makes the audience empathize with his predicament. The supporting cast, including Paintal and Bindu, also deliver strong performances and add to the charm of the movie.
Overall, Jawani Diwani is a timeless classic that has stood the test of time. It is a feel-good movie that will leave you with a smile on your face and a warm feeling in your heart.