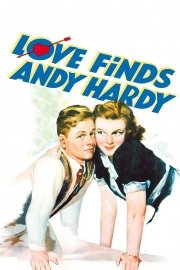 Watch Love Finds Andy Hardy
"The new story of Judge Hardy's family!"
Passed
1938
1 hr 31 min
Love Finds Andy Hardy is a delightful romantic comedy from 1938 that follows the adventures of a young man named Andy Hardy, played by Mickey Rooney. Andy is a typical teenager from the small town of Carvel who is always trying to pursue the next girl that he falls for, but seems to have trouble finding true love. As the summer begins, Andy is excited to spend time with his buddies and go on different adventures. However, his plans are quickly derailed when he meets his old childhood friend, Betsy Booth, played by Judy Garland. Betsy is no longer the little girl that Andy used to know and has turned into a beautiful young woman who Andy is immediately smitten with.
Despite his feelings, Andy is hesitant to pursue Betsy because he doesn't want to risk their friendship. However, things become complicated when Andy's longtime girlfriend, Polly, played by Ann Rutherford, starts to feel neglected and tries to win him back. Meanwhile, Andy's father, Judge Hardy, played by Lewis Stone, is also dealing with his own problems, including a case involving a woman who has been accused of stealing.
As the story unfolds, Andy is faced with several romantic and familial conflicts that force him to grow up and take responsibility for his actions. Along the way, he learns the importance of trust, friendship, and true love.
Love Finds Andy Hardy is a charming and heartwarming film that captures the essence of small-town life in the 1930s. The chemistry between Mickey Rooney and Judy Garland is palpable and their musical performances are a highlight of the film. The supporting cast, including Ann Rutherford and Lewis Stone, also give strong performances that add depth and complexity to the story.
One of the most notable aspects of Love Finds Andy Hardy is its representation of the typical adolescent experience. Andy is a relatable character who is trying to navigate the highs and lows of first love while also dealing with the pressures of his family and community. The film also explores themes of gender roles and expectations, as Andy struggles to balance his traditional ideals with his desire for personal fulfillment.
Overall, Love Finds Andy Hardy is a timeless classic that has remained popular for over 80 years. Its themes and characters continue to resonate with audiences of all ages, making it a must-see for anyone who loves romantic comedies or coming-of-age stories.
Love Finds Andy Hardy is a 1938 comedy with a runtime of 1 hour and 31 minutes. It has received mostly positive reviews from critics and viewers, who have given it an IMDb score of 6.7.