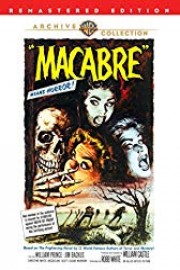 Watch Macabre
NR
1958
1 hr 11 min
Macabre is a thrilling horror film released in 1958, directed by William Castle and starring William Prince, Jim Backus, and Christine White. The story follows a doctor named Rodney Barrett who is desperately trying to save his daughter from death. Unfortunately, he can do nothing to stop her from passing away after a tragic car accident. In a moment of desperation, he calls upon his former patient, Ben Whitley, to help him bring his daughter back to life.
The movie takes place in a small town in New England, where Dr. Rodney Barrett (William Prince) is a respected physician. When his daughter, Nancy, is involved in a terrible car accident, he is powerless to save her despite his medical expertise. Devastated by his loss, he becomes obsessed with bringing Nancy back to life, fumbling through his medical books in the hopes of finding a way to revive her.
As he becomes increasingly desperate, he turns to Ben Whitley (Jim Backus), a former patient who claims to have experience with the supernatural. Whitley agrees to help Barrett return Nancy to the land of the living, and the two embark on an eerie and ominous mission to bring the dead girl back to life.
The plot takes a darker turn as Whitley reveals the extent of his obsession with death and his twisted methods for bringing people back from the dead. He is not averse to stealing corpses and experimenting on them in order to perfect his craft, and he soon sets his sights on Nancy.
The movie is incredibly suspenseful and full of creepy moments that will keep you on the edge of your seat. From the opening scene of Nancy's accident to the final, thrilling moments of the film, the tension never lets up. The script is well-written, with eerie and haunting dialogue that sets the tone for a genuinely creepy and unsettling experience.
The performances are excellent all around. William Prince gives a nuanced and subtle portrayal of a father in grief, with a real sense of emotional depth and complexity. Jim Backus is equally fantastic as the unhinged Ben Whitley, imbuing the character with an unsettling manic energy that keeps the audience guessing as to his true intentions.
The cinematography and lighting are also superb, with Castle using a variety of clever techniques to create an atmosphere of dread and unease. From the stark, sterile interiors of the hospital to the claustrophobic confines of Whitley's laboratory, every shot is perfectly composed and expertly lit to create a sense of unease and foreboding.
Overall, Macabre is a classic horror film that stands the test of time. It is a masterclass in suspenseful storytelling, with a gripping plot, exceptional performances, and effective direction. Fans of classic horror movies will not want to miss this one, as it is a quintessential example of the genre at its best.
Macabre is a 1958 drama with a runtime of 1 hour and 11 minutes. It has received moderate reviews from critics and viewers, who have given it an IMDb score of 5.7.