Major League
"A comedy with bats and balls."
After inheriting ownership of the Cleveland Indians baseball team, Rachel Phelps decides to uproot the team and move them to Miami to take advantage of an incredible deal being offered by the city. In order to break the team's contract with the city, she must reduce the team's average attendance and asks the Indians' general manager to help her do this by creating the worst team possible.
General Manager Charlie Donovan carries out her orders by bringing together the greatest group of misfits the baseball world has ever seen, including aging Jake Taylor, an incarcerated pitcher, an outfielder who practices voodoo and Roger Dorn, a washed-up third baseman nearing the end of his career. Phelps' plan starts out flawlessly until the team learns of her efforts to undermine the team.
|
1989
|
1 hr 47 min
|

/

10
Cast

Studio

Director

David S. Ward

Language

English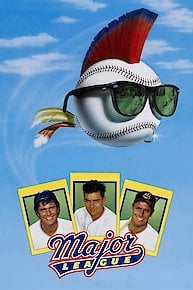 Watch Major League Trailer