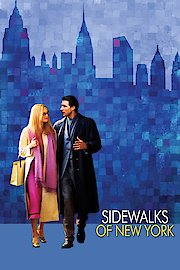 Watch Sidewalks of New York
"In a city of 8 million people, what are the odds the perfect two will meet?"
R
2001
1 hr 48 min
49
In New York City, six strangers have an interlocking series of events. Tommy breaks up with his girlfriend and has a relationship with Maria, a girl in a video store. When a real estate agent Tommy has hooked up with finds out her husband is cheating on her with Maria, the stories come around full circle.