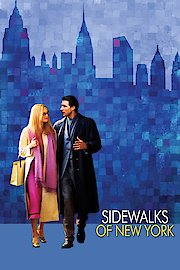 Watch Sidewalks of New York
"In a city of 8 million people, what are the odds the perfect two will meet?"
R
2001
1 hr 48 min
49
Sidewalks of New York is a romantic comedy-drama film that was released in 2001. It was written and directed by Edward Burns, who also stars in the film. The movie follows the interweaving stories of six New Yorkers as they navigate their way through love, relationships, and the challenges of modern urban life. The movie is set in present-day New York City, with the title referring to the busy sidewalks of the city that serve as a backdrop for the characters' lives. The story begins with Tommy (Edward Burns), a TV producer who is recently divorced and trying to get back into the dating scene. He is preparing for a date with a young schoolteacher named Maria (Rosario Dawson) when he meets Annie (Heather Graham), a real estate agent who is also dealing with her own recent breakup.
As the film progresses, we are introduced to the other characters, all of whom are connected in some way to Tommy, Maria, or Annie. There is Carpo (Dennis Farina), a middle-aged man who is having an affair with Ashley (Brittany Murphy), a young woman who is trying to make it as a singer. Then there is Ben (David Krumholtz), a Jewish dentist who is in a rocky marriage with his wife's best friend, Cyndi (Jennifer Esposito).
Through a series of conversations, arguments, and chance encounters, we see how these characters navigate their way through the ups and downs of their relationships. Tommy, for example, finds himself torn between his attraction to Maria and his lingering feelings for his ex-wife. Annie, on the other hand, is still in love with her ex-boyfriend, who dumped her for a younger woman.
One of the strengths of the movie is its ability to show the similarities and differences between the characters, despite their different backgrounds and circumstances. They all have their own personal struggles and insecurities, but they also share a sense of humor and a desire for connection and happiness.
At its core, Sidewalks of New York is a film about relationships, and the challenges that come with trying to make them work in a fast-paced and ever-changing city like New York. The characters are flawed and imperfect, but they are also relatable and likable in their own ways.
Overall, Sidewalks of New York is a charming and engaging film that offers a glimpse into the complexity of modern relationships. The cast is excellent, with strong performances from Edward Burns, Heather Graham, and the rest of the ensemble. The movie also benefits from its realistic depiction of New York City, capturing the energy and diversity of the city that serves as a backdrop for the characters' lives. If you are a fan of romantic comedies or character-driven dramas, then Sidewalks of New York is definitely worth checking out.
Sidewalks of New York is a 2001 comedy with a runtime of 1 hour and 48 minutes. It has received mostly poor reviews from critics and viewers, who have given it an IMDb score of 6.4 and a MetaScore of 49.