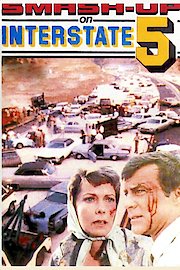 Watch Smashup on Interstate 5
"It was a day just like any other, until 75 people took the wrong route home!"
NR
1976
1 hr 40 min
Smashup on Interstate 5 is an action-packed drama film, released in 1976, that revolves around a California Highway Patrol officer named Sam McCall (played by Robert Conrad) who happens to get embroiled in the middle of a dangerous criminal pursuit. The film begins with a group of robbers, led by the charismatic Earl (played by Buddy Ebsen), who are on the run after having pulled off a heist. They are being chased by the police, and during the resulting car chase, one of the robbers is killed, and another is injured. The gang takes refuge in a small gas station where a young woman, Nicky (played by Sian Barbara Allen), works.
Nicky agrees to help the gang out by providing them with food and medicine for the injured robber. She eventually falls for the charming Earl, who shows her a different side of him, and they begin a secret romance.
Meanwhile, Sam McCall, a dedicated Highway Patrol officer, is assigned to track down the fugitives. Along with a fellow officer, they set up a roadblock on Interstate 5, which leads to a dramatic shootout.
The film is filled with thrilling action sequences, car chases, and gunfights, all set against the backdrop of the stunning Californian landscape. The performances of the leads are commendable, especially Buddy Ebsen, who shines as the charismatic, yet cold-blooded leader of the gang. Robert Conrad also delivers an impressive performance as the straight-laced, no-nonsense Highway Patrol officer.
However, what sets this film apart is not just the action, but also the subtle emotional elements that run throughout the story. Nicky, for instance, is torn between her love for Earl and her sense of morality. She has to make a choice between doing what is right and siding with her heart, which adds a layer of complexity to her character.
Smashup on Interstate 5 does an excellent job of blending action with drama, and is a testament to the filmmaking style of the 1970s. The film does not rely on gimmicks or special effects, but rather the strength of its characters to take the audience on an entertaining ride.
In conclusion, if you are a fan of classic action films with a touch of complexity and emotion, Smashup on Interstate 5 is definitely worth a watch. The film is an engaging and thrilling ride that captures the essence of the 1970s genre.
Smashup on Interstate 5 is a 1976 drama with a runtime of 1 hour and 40 minutes. It has received moderate reviews from critics and viewers, who have given it an IMDb score of 6.0.