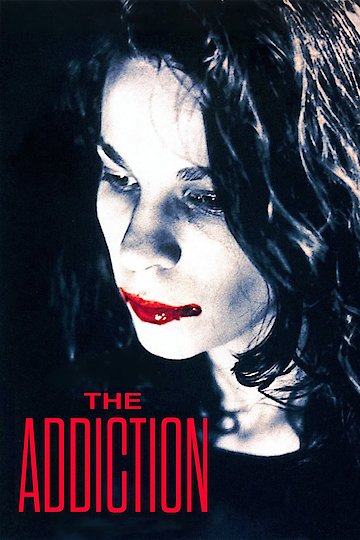 Watch The Addiction
"The dark is their sunlight. What makes them different is what keeps them alive."
NR
1995
1 hr 22 min
The Addiction is a horror film directed by Abel Ferrara, released in 1995. The movie follows the story of Kathleen Conklin, a philosophy student studying in New York City. One night, she is attacked and bitten by a vampire, which leads her to embrace her new identity as a bloodsucker. Kathleen's transformation is at the core of the movie. At first, she struggles to accept her condition and to come to terms with her newfound lust for human blood. She finds solace in the company of the enigmatic Peina, played by Christopher Walken, who acts as her mentor and shows her the ropes of vampire life.
As Kathleen ventures deeper into her new existence, she becomes more and more detached from the world around her, losing touch with her humanity and her former friends. She sees herself as a predator, an apex predator that feeds on lesser beings. Her thirst for blood becomes insatiable, and she begins to see humans not only as prey but as powerless and meaningless. This leads her to commit increasingly brutal acts of violence, which attract the attention of the police and of other vampires.
The Addiction is an intelligent horror movie that juxtaposes themes of addiction and existentialism with classic vampire tropes. Kathleen's struggle with her bloodsucking nature is a metaphor for addiction to drugs, sex, and other self-destructive behaviors, which the movie portrays as a loss of control and personal freedom.
The movie's philosophical underpinnings are further explored through Kathleen's conversations with her professor, played by Edie Falco, who challenges her on the nature of evil, the existence of God, and the meaning of life. These exchanges offer a welcome respite from the movie's more graphic moments and help to establish Kathleen as a complex character, haunted by her past and uncertain of her present.
The Addiction benefits greatly from its strong performances. Lili Taylor, in particular, is brilliant as Kathleen, giving a nuanced and layered portrayal of a woman torn between her intellect and her instincts. Christopher Walken is as magnetic as ever, bringing a sense of danger and mystery to his role as Peina, the vampire who guides Kathleen through her journey.
Annabella Sciorra, a frequent collaborator of Ferrara, also delivers a memorable turn as a fellow vampire who becomes Kathleen's rival. The scenes she shares with Taylor are some of the movie's most intense and beautifully shot.
In terms of visuals, The Addiction is a striking movie, shot in black-and-white and featuring a moody, atmospheric score by Joe Delia. Ferrara's direction is bold and uncompromising, using long takes and expressive camera movements to convey the emotional turmoil of his characters.
Overall, The Addiction is a unique and thought-provoking horror movie that deserves more attention than it has received. It is a movie that rewards repeat viewings, offering new insights and an appreciation for the subtle details that make it stand out from other vampire movies. If you are a fan of horror or of independent cinema, this is definitely a movie worth checking out.
The Addiction is a 1995 drama with a runtime of 1 hour and 22 minutes. It has received moderate reviews from critics and viewers, who have given it an IMDb score of 6.4.