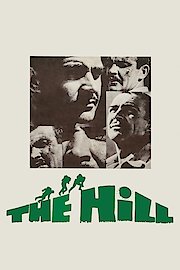 Watch The Hill
"They went up like men! They came down like animals!"
Approved
1965
2 hr 3 min
81
In the movie The Hill, Sean Connery plays Joe Roberts, a British ex-soldier who finds himself imprisoned in a military detention camp in the Libyan desert during World War II. The camp is run by Sergeant Major Bert Wilson (Harry Andrews) and his staff, who use brutal methods to keep the prisoners in line. The Hill is a powerful drama that explores the effects of power, corruption, and violence on both the oppressed and the oppressors. The film is based on a play by Ray Rigby and was directed by Sidney Lumet, who is known for his realistic and intense style.
The movie opens with the arrival of five new prisoners at the camp, including Roberts. They are welcomed by Wilson, who immediately sets the tone for the rest of the film by delivering a chilling speech about the need for discipline and order.
The prisoners are immediately put to work digging a hill of sand in the searing heat, a task that seems impossible to complete. At first, Roberts tries to keep his head down and stay out of trouble, but when he witnesses a fellow prisoner being beaten to death by the guards, he decides to take a stand.
Roberts rallies the other prisoners to demand better conditions and treatment from the guards, but the situation quickly spirals out of control. Wilson sees this as a threat to his authority and begins to use even more brutal methods to keep the prisoners in line.
As the tension between the prisoners and the guards escalates, Roberts is forced to confront his own past traumas and choices that led him to the detention camp. In a climactic scene, he delivers a powerful monologue that lays bare the injustices and horrors of war and the cycle of violence that perpetuates it.
The performances in The Hill are outstanding, particularly Connery's gripping portrayal of a man pushed to the brink of his limits. Andrews is equally mesmerizing as the sadistic sergeant major who embodies the worst aspects of military power.
The film also showcases Lumet's skillful direction, as he creates a vivid and oppressive atmosphere that captures the harshness of life in the detention camp. The cinematography, by Oswald Morris, is stunning, capturing both the beauty and the desolation of the desert landscape.
The Hill is a film that refuses to pull any punches in its portrayal of the brutality of war and the dehumanizing effects of power. It's a must-see for anyone interested in powerful and thought-provoking dramas that explore the dark side of human nature.
The Hill is a 1965 drama with a runtime of 2 hours and 3 minutes. It has received mostly positive reviews from critics and viewers, who have given it an IMDb score of 7.9 and a MetaScore of 81.