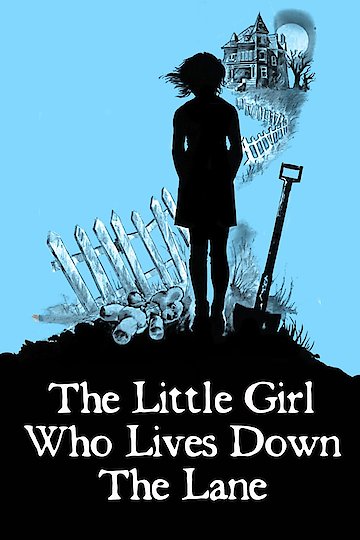 Watch The Little Girl Who Lives Down the Lane
"Ask her no questions, she'll tell you no lies. Ask her too many and somebody dies."
PG
1976
1 hr 40 min
53
The Little Girl Who Lives Down the Lane is a 1976 mystery/drama movie starring Jodie Foster, Martin Sheen, and Alexis Smith. The film tells the story of 13-year-old Rynn Jacobs (Foster), who lives alone in a secluded house in a small New England town. Despite her young age, Rynn is independent, resourceful, and fiercely protective of her privacy. She is also a very talented amateur actress and playwright.
The movie opens with Rynn burying her pet hamster in the backyard. She is met by Frank Hallett (Sheen), a local wealthy pedophile who takes an interest in her. He tries to get close to her, but Rynn is cautious and evasive. She tells Frank that her father is a renowned poet studying in Montreal and that her mother is traveling in Europe with her father, but they will return soon. Rynn is lying, and it soon becomes clear that her parents are nowhere to be found.
Rynn's neighbor and landlady, Mrs. Hallett (Smith), is also suspicious of the girl's parents' whereabouts. Mrs. Hallett is extremely controlling, and she demands that Rynn pay her rent and follow her strict rules. Rynn refuses to comply and keeps Mrs. Hallett at bay with her wit and intelligence.
As the story progresses, Rynn's situation becomes more precarious. She must protect herself from Frank, who is becoming increasingly aggressive in his pursuit of her. She also has to deal with Mrs. Hallett, who is becoming increasingly suspicious of her. Rynn's only ally is Mario, a local teenage boy who is attracted to her. He knows her secret, but he helps her keep it.
Throughout the movie, Rynn's character is presented as a brave, independent, and intelligent young woman. She is not afraid to confront danger and rely on herself rather than seeking help from others. She is also a complex, fascinating character who excels at acting and writing. Rynn is a young woman with a strong will, who is not afraid to stand up for herself or even lie if necessary to protect herself.
Frank Hallett's character is a foil to Rynn's. He is manipulative, immoral, and cruel. He is willing to do anything to get what he wants, and this includes using Rynn for his own sick purposes.
Mrs. Hallett's character is also a foil to Rynn's. She is controlling, petty, and nosy. She tries to impose herself on Rynn's life and is immediately suspicious of her.
The Little Girl Who Lives Down the Lane is a slow-paced movie that builds up tension gradually. The film doesn't rely on jump scares or gore to create a sense of dread. Instead, it relies on the excellent performances of its actors and the well-crafted script. The movie was directed by Nicolas Gessner, who masterfully creates a tense atmosphere, even in the most mundane scenes.
Overall, The Little Girl Who Lives Down the Lane is an excellent movie, featuring Jodie Foster's incredible acting skills. She embodies Rynn's strength, intelligence, and vulnerability, all at once. This film is a must-see for anyone who enjoys dark, suspenseful movies. It's a true classic that still holds up today.
The Little Girl Who Lives Down the Lane is a 1976 drama with a runtime of 1 hour and 40 minutes. It has received moderate reviews from critics and viewers, who have given it an IMDb score of 7.0 and a MetaScore of 53.