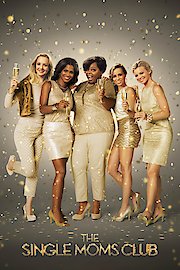 Watch The Single Moms Club
"Nothing like a little group therapy."
PG-13
2014
1 hr 51 min
31
The Single Moms Club is a comedy-drama movie released in 2014, directed and written by Tyler Perry. The ensemble cast includes Nia Long, Wendi McLendon-Covey, Amy Smart, Zulay Henao, and Cocoa Brown. The movie revolves around a group of five single mothers who come from different walks of life and are facing various challenges. They all have kids attending the same school, and they meet at the principal's office after their children get into a fight. The principal suggests the idea of forming a support group, which they all initially reject. However, after a series of events, they eventually decide to form the group and provide support to each other as they navigate their respective challenges as single mothers.
The film's main protagonist is May (Nia Long), a journalist and mother of a pre-teen son. May struggles to balance her career, finances, and parenting while dealing with an uninvolved ex-husband. Alongside May is Jan (Wendi McLendon-Covey), a successful book editor who struggles to connect with her teenage daughter after her husband leaves them. Next is Hillary (Amy Smart), a struggling mother who just gets out of a toxic relationship with her abusive husband. Esperanza (Zulay Henao) is a mother of two who is going through a contentious divorce with her estranged husband. Lastly, we meet Lytia (Cocoa Brown), a mother of five who struggles with her job as a waitress, her children, and a criminal ex-husband who's in and out of jail.
As they attend meetings, the group members help each other overcome various challenges. They offer sympathy, advice, and much-needed support. The members bond over their common struggles and develop close friendships as they face their challenges. They provide each other with insights on how to cope with being a single mother in a society that doesn't always offer the support they need. The support group offers them a sense of empowerment, and they discover that, together, they can overcome anything.
The movie touches on several themes, including the importance of friendship, the struggles of being a single parent, and the difficulty of juggling a career and motherhood. It portrays the difficulties that single mothers face, such as financial strain, relationship issues, and unwanted opinions from others. The film also shows the strength of women in the face of adversity and the power of coming together to help each other through tough times.
The performances in the film are outstanding, with Nia Long and Wendi McLendon-Covey leading the ensemble cast. Their chemistry is natural, and they deliver their lines convincingly, bringing their characters to life. The movie is well-written, with relatable and compelling characters, witty dialogue, and genuine emotional moments. Tyler Perry's direction is also impressive, showcasing a different side of his filmmaking skills, as The Single Moms Club is a departure from his usual work.
In conclusion, The Single Moms Club is a heartwarming film that portrays the struggles, and ultimately, the strength of single mothers. It sheds light on the importance of support groups and the power of friendship during difficult times. The movie offers a touch of humor, excellent acting performances, and relatable characters that will leave audiences feeling moved and empowered.
The Single Moms Club is a 2014 drama with a runtime of 1 hour and 51 minutes. It has received mostly poor reviews from critics and viewers, who have given it an IMDb score of 5.4 and a MetaScore of 31.