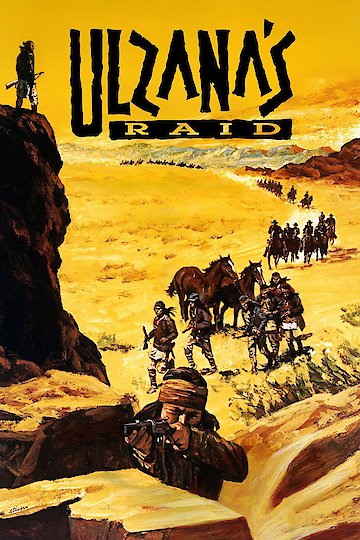 Watch Ulzana's Raid
"One man alone understood the savagery of the early American west from both sides."
R
1972
1 hr 45 min
Ulzana's Raid is a 1972 western film directed by Robert Aldrich and starring Burt Lancaster, Bruce Davison, and Jorge Luke. Set in the late 1800s, the movie follows a group of American army soldiers as they embark on a mission to track down and capture the Apache chief Ulzana, who has been launching raids on settlements in the Arizona territory.
The film opens with a group of Apache men arriving at a small rural settlement and slaughtering the inhabitants. Soon, news of the massacre reaches the army post in nearby Fort Lowell, and a detachment of cavalry is dispatched to find and apprehend the raiders. The unit is led by Lieutenant DeBuin, an inexperienced and idealistic young officer, and his veteran scout, a wily and weathered old-timer named McIntosh. As they set out into the arid wilderness in pursuit of Ulzana, they encounter a variety of challenges and obstacles, including the harsh terrain, hostile weather, and skirmishes with other bands of Apache.
Throughout the course of their journey, DeBuin and McIntosh clash over their differing approaches to the mission. DeBuin is driven by a desire to win glory and stamp out the Apache threat, while McIntosh is more pragmatic and skeptical of the army's ability to truly understand the native culture and motivations. Along the way, they are joined by an awkward and inexperienced young recruit named Garnett, who is eager to prove himself and win the respect of his comrades.
As they draw closer to Ulzana, the situation becomes more dangerous and tense. The Apache leader is revealed to be a cunning and ruthless adversary, capable of outmaneuvering and outwitting the army at every turn. The soldiers face ambushes, traps, and brutal hand-to-hand combat as they struggle to keep up with Ulzana and his band of warriors.
Ulzana's Raid is a tense and gritty depiction of the brutal conflict between the United States army and the Apache tribes in the late 19th century. The film pulls no punches in its portrayal of the violence and savagery on both sides, and is notable for its refusal to romanticize or idealize the Western frontier. The performances by Lancaster, Davison, and Luke are all excellent, with each actor bringing a distinct and convincing portrayal to their respective roles. The cinematography is also notable for its stunning shots of the Arizona landscape, captured in all its stark and austere beauty.
Overall, Ulzana's Raid is a powerful and thought-provoking film that explores themes of cultural conflict, imperialism, and the human cost of war. It stands as a testament to the enduring relevance and complexity of the Western genre, and remains a must-see for fans of classic cinema.