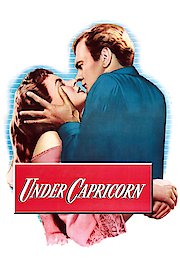 Watch Under Capricorn
"Mystery, murder and passion from the master of suspense!"
Approved
1949
1 hr 57 min
61
Set in colonial Australia in the 1830s, Under Capricorn is a psychological drama that explores the relationships between a former convict, his affluent employer and the latter's troubled wife. Directed by the legendary Alfred Hitchcock, the film stars Ingrid Bergman as Lady Henrietta Flusky, Joseph Cotten as Charles Adare, Michael Wilding as Sam Flusky, and Margaret Leighton as Milly. The story begins with Charles Adare arriving in Sydney to start a new life, soon after his cousin invites him to come over. He's hoping to make a fortune and leave his past behind, but he finds out that making new friends is easier said than done. His cousin sets him up with his own friend, Sam Flusky, who is now a prosperous landowner but was once a convict. Charles soon becomes intrigued by the enigma that is Lady Henrietta Flusky, Sam's wife. Despite her wretched and pathetic state, Charles senses that there is still some elegance to her. He tries to investigate her past and finds out the reason for her current state. Lady Henrietta was once a beautiful Englishwoman who married Sam Flusky, an Irishman of lower social status that she met while on vacation. They started a new life together in Australia, where Sam became a wealthy landowner, but her life took a tragic turn after the death of their child. Lady Henrietta descended into a deep depression, became an alcoholic, and had frequent mental breakdowns. Charles's attempts to help her lead to tension with Sam, and he must also navigate the resentment and secrecy that surrounds Lady Henrietta and her relationship with Sam. Hitchcock is famous for his use of suspense, and there is indeed a sense of unease and suspense throughout the film. There are a lot of hidden secrets and unspoken tensions between the characters, and the viewer is kept on edge wondering what will happen next. Unlike most of Hitchcock's movies, however, there is little action in Under Capricorn. Instead, the film is primarily driven by the psychological drama unfolding between the complex characters. Bergman gives a powerhouse performance as Lady Henrietta, showcasing her talent for conveying complicated emotions with nuance and complexity. She is both pitiable and courageous, simultaneously embodying the tragedy of a fallen aristocrat and the resilience of a survivor. Cotten and Wilding are also well-cast, with Cotten's suave charm providing an interesting counterpoint to Wilding's rough-hewn masculinity. The film's gorgeous Technicolor visuals are also worth noting. Hitchcock makes good use of the Australian landscape, with beautiful shots of the vast wilderness and sprawling countryside. The sets and costumes evoke the era's opulent styles and fashions, transporting the viewer back to the colonial era. There is also a notable use of long takes and sweeping camera movements, indicative of Hitchcock's signature style. While it may not be as well-known as some of Hitchcock's other films, Under Capricorn is a gripping psychological drama with great performances and stunning visuals. It's an underrated gem that showcases Hitchcock's range beyond his typical thriller fare.