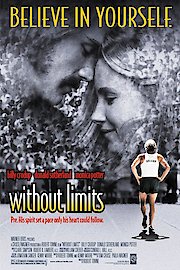 Watch Without Limits
"PRE. The way he competed. The way he lived his life."
PG-13
1998
1 hr 57 min
71
This is the life of Steve Prefontaine from his early days all the way to his death. Steven is a runner is from his youth on the streets of Oregon. He manages to work his running skills all the way to Oregon U. At this Oregon school Steve meets coach Bill Bowerman. Bill Bowerman is hard on Steve because he knows that Steve is one of the best runners of all time. Steve goes through some tough times and even experiences love, which he does not want to let go of for anything. Steve finally makes it to the Olympics and is one of the greatest runners in the games. At the peak of his life Steve is killed in a car crash. People now have to deal with their idol no longer being with them; his death brings tears to many eyes and his is greatly missed by many people all around the world.