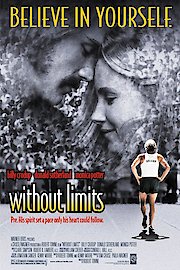 Watch Without Limits
"PRE. The way he competed. The way he lived his life."
PG-13
1998
1 hr 57 min
71
Without Limits is a 1998 biographical sports film that chronicles the short but influential career of American track and field icon Steve Prefontaine, also known as Pre. The movie was directed by Robert Towne and starred Billy Crudup as Pre, Donald Sutherland as Bill Bowerman, Monica Potter as Mary Marckx, and a host of other talented actors.
The film takes its name from Prefontaine's relentless approach to running, which was characterized by always pushing beyond his limits. Set against the backdrop of the late 1960s and early 1970s, the movie captures the countercultural spirit of the era, as well as the competitive world of athletics.
The story begins with a young Steve Prefontaine, a talented runner from Oregon who joins the track and field team at the University of Oregon. From the start, Pre displays an uncanny ability to run long distances at a breakneck pace, setting records and winning races with ease. With the help of his coach, Bill Bowerman, and Mary Marckx, his girlfriend, Pre trains harder than ever and develops a fierce determination to become one of the best runners in the world.
As Pre's career takes off, he becomes increasingly involved in the political landscape of track and field. He speaks out against the Amateur Athletic Union and the International Olympic Committee, calling for greater rights and better compensation for athletes. He also becomes embroiled in a rivalry with fellow runner Frank Shorter, a battle that ultimately culminates in the 1972 Munich Olympics.
Throughout it all, Pre remains focused on his ultimate goal: winning the gold medal in the 5000-meter race at the Olympics. However, as the competition draws near, tragedy strikes, and the world mourns the loss of one of its greatest athletes.
The movie features some impressive performances from its cast, particularly Billy Crudup as Steve Prefontaine. Crudup fully embodies the spirit of the young runner, capturing both his charm and his fierce determination. Donald Sutherland is also excellent as Bill Bowerman, the coach who helps to shape and mold Pre's career.
Overall, the film is a gripping and emotionally charged portrait of a true American icon. It offers a glimpse into the world of competitive athletics, as well as the turbulent and transformative times of the late 1960s and early 1970s. Whether you're a fan of sports movies or simply looking for a moving and inspirational tale, Without Limits is a film worth watching.
Without Limits is a 1998 drama with a runtime of 1 hour and 57 minutes. It has received mostly positive reviews from critics and viewers, who have given it an IMDb score of 7.2 and a MetaScore of 71.