3D Safari
This travel documentary, hosted by Hunter Ellis, enables viewers to enjoy an up close and personal look at some of Africa's most incredible wildlife, including elephants, hippos, lions and flamingos. This film offers an unforgettable way to enjoy a virtual safari excursion through the African bushland and wilderness.
1 Season,

13

Episodes

April 7, 2020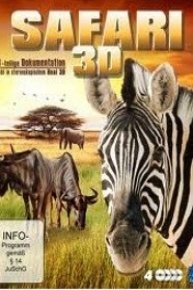 3D Safari Full Episode Guide
A baby elephant is intent on scaring off the WildEarth Safari vehicle with some amusing antics. The crew also have a fantastic sighting of Karula and her cubs as she moves them into a new hiding spot.

Marc has a moment with a bull elephant and later on the resident rhino population demonstrate their power in some territorial combat with Short Horn the territorial bull.

The WildEarth Safari crew spend some time with a male and female lion as they start their three day long mating session and vocalize with some impressive roaring.

A female cheetah and her cub grace the WildEarth Safari crew with their presence as they watch them feeding on a kill. Finally they spend some time with two prides of lions: the Nkuhuma pride and two Gijima males.

The WildEarth Safari crew spend time with a lion pride known as the Nkuhumas who are busy feeding while the Gijima males spend time marking their territory.

The WildEarth Safari crew come across a large buffalo herd that is located wallowing and grazing in the midday heat, while nearby there is tension between Shorthorn a dominant white rhino bull and a subordinate male.

The WildEarth Safari crew join up with the Gowrie Gang, a local troop of baboons who are busy feeding and socializing. A family of dwarf mongoose take refuge as the crew catch a glimpse a male leopard who is busy investigating an intriguing scent.

Morning rises in the African bush and the WildEarth Safari crew catch up with Induna the resident male leopard, feeding in an unusual manner. Karula moves her most recent kill to safer heights, out of reach of the lurking predators.

Induna, the resident male tries to bury his latest kill and the WildEarth Safari crew capture a rare glimpse of a very pregnant Karula, the resident female, looking for a new den site to give birth to the cubs.

The WildEarth Safari crew catch up with a female rhino called Round Horn and her calf and later join the female spotted hyena from a previous episode. Her cubs are getting older and the crew watch them play and feed outside their den site.

The WildEarth Safari team spend time with a resident female hyena and her new cubs. Mgodi the elephant bull allows the crew to get close to him as he calmly goes about feeding, giving them an insight into this gentle giant's demeanor.

The WildEarth Safari crew watch a young bull elephant taking a bath in a shallow pan, witness a male lion weighing up his chances with a herd of buffalo, and see a leopard queen as she climbs a tree for a better view of potential prey.

The WildEarth Safari crew spend time with a herd of elephants as a baby learns how to use his trunk, join three cheetah quenching their thirst at a waterhole and stumble across a pack of wild dogs playing with the remains of their prey.