All Stars
This is a TV sport series about different players who have made it big in the respected sports. Each episode covers a different athlete. There are interviews with athlete themselves, family interviews, friend interviews, and forth. There is also a segment on the player's background such as what their childhood was like and the reason they are so passionate about the sport they are in.
1 Season,

9

Episodes

June 17, 2009

/

10

Cast:

Danny de Munk, Antonie Kamerling, Daniël Boissevain, Peter Paul Muller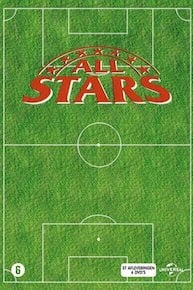 All Stars Full Episode Guide
With Brody depressed, eating poorly, and bedridden will Todd finally succeed in becoming captain? Will the Nifty pull Brody out of his funk in time for the big game, or will Todd's evil plan to expel Brody finally come to fruition

Once again fans, Todd is up to no good. After framing Alfonso, the team is torn apart. Will Brody be able to play without his right-hand man? Will yoga be enough to save the Nifty softball team

It's the final day of the regular season and tensions are high between Brody and the new "star" player, Nifty's janitor, Alfonso. Will Todd finally succeed at bringing down Brody? Will Nifty's winning streak be ruined

Episode

6

-

Hermanos/Brothers

Episode

5

-

Scouting Report

Episode

4

-

I've Got the Moon

Game day has finally arrived and Alcoholics Anonymous may be one of Nifty's toughest opponents yet. Kyle is forced to face his demons and Todd is on the verge of a breakdown. Will the Nifty team be able to pull it together for the win

Episode

3

-

The Enemy Within - Dehydration?

The big game against Alcoholics Anonymous is around the corner and the Nifty softball team starts prepping. Moral is high with the exception of Todd who remains defiant. Will he come around in time for the big game?

Much to the surprise of everyone, it looks like the Nifty Softball team is back in the game! Thanks to their new star pitcher Brody, Nifty creams Sam's Supermarket, finally breaking their forty nine game losing streak.

Episode

1

-

Thanks for Asking

Easily the worst team in their company league, things are looking grim again this year for The Nifty Brand Rubber Band's softball team. On the Roster: A drunk, an asshole, a hot girl, and two psychos. But then hurricane Brody arrives...