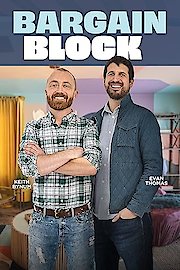 Watch Bargain Block
Bargain Block is the newest addition to HGTV's lineup and has taken the network and viewers by storm since its premiere in early 2021. The show is a fast-paced, high-stakes competition that pits two of Detroit's best real estate flippers against each other – Keith Bynum and Evan Thomas – as they compete to buy and renovate homes in some of the city's most underdeveloped neighborhoods.
The hosts of the show are Keith Bynum, an artist, and Evan Thomas, a former Army veteran. Their partnership began when they renovated their first property together, which was a 1930s Tudor-style home in Detroit. Since then, they have established themselves as one of the premier real estate flipping teams in the city. The duo is known for taking chances and incorporating unique design elements into their renovations, which always pay off in the end.
Their competition on the show is Shea Hicks-Whitfield, a local Detroit real estate agent known for her sharp negotiating skills and eye for hidden value. Like Keith and Evan, Shea is committed to the revitalization of Detroit and is passionate about bringing new life to the city's neighborhoods.
Each episode of Bargain Block begins with the hosts scouting out promising properties in Detroit's most impoverished areas. They're looking for the best deals the city has to offer, negotiating prices with homeowners and real estate agents to get the best possible prices on the homes they choose. Once a property is selected, the competition heats up as Keith and Evan go head-to-head to see who can turn it into a stunning and profitable flip in just 6 weeks.
Throughout the renovation process, Keith, Evan, and their teams work tirelessly to modernize the homes without losing their original charm. There's always a sense of urgency on the show, with the hosts and their teams racing against the clock to complete the renovations before time runs out. They encounter all kinds of challenges during the process, from structural issues to last-minute design changes. But no matter what obstacles they face, Keith and Evan always manage to come up with innovative solutions that ultimately lead to exceptional homes.
Shea, meanwhile, is watching from the sidelines, determined to find the best possible buyer for each property once the renovations are complete. She uses her extensive network of potential buyers and investors to drum up interest in the properties, often hosting open houses and putting on marketing campaigns to get the word out. Ultimately, it's up to her negotiating skills to ensure that the homes sell for top dollar, securing a win for her team.
One of the standout features of Bargain Block is the emphasis on community engagement. The show highlights the transformative power of renovating and selling homes in Detroit's underdeveloped neighborhoods, bringing new life and vitality to the community. The hosts and their teams often work with local contractors, suppliers, and other city workers to ensure that the renovations benefit the community at large. They also showcase Detroit's local artists and designers, incorporating their work into the home's interiors to add a unique and authentic touch.
Another element that sets Bargain Block apart from other real estate shows is the hosts' commitment to sustainability. Keith and Evan are passionate about incorporating eco-friendly materials and technology into their renovations, from solar panels to energy-efficient appliances. They understand the importance of sustainability, not just for the environment but also for the long-term cost savings for homeowners.
In addition to the thrilling competition and stunning renovations, Bargain Block is also a showcase for Detroit's rich history and culture. The city's unique architecture serves as the perfect backdrop for the show's hosts to highlight their design skills, and each episode is peppered with references to Detroit's unique heritage. This gives the show a sense of place and context that makes it more interesting and engaging for viewers.
Ultimately, Bargain Block is a high-energy, fast-paced real estate competition that is refreshing and engaging for viewers. Keith Bynum, Evan Thomas, and Shea Hicks-Whitfield are all dynamic and charismatic hosts who bring their unique perspectives and skills to the show. By shining a spotlight on Detroit's revitalization and the transformative power of real estate, Bargain Block is both entertaining and inspiring, making it a must-watch for fans of the genre.
Bargain Block is a series that is currently running and has 3 seasons (25 episodes). The series first aired on April 15, 2021.