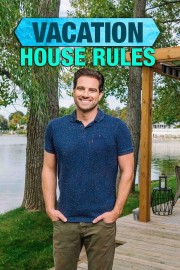 Watch Vacation House Rules
HGTV's Vacation House Rules is a thrilling series that takes the audience through the transformative renovation of vacation homes into breathtaking, luxurious getaways. The show premiered on June 2, 2020, and has since charmed viewers with its captivating transformations, stunning designs, and unique approach. The show follows stunning makeovers by vacation property expert, Scott McGillivray, as he helps families turn their lackluster vacation homes into amazing rental properties.
Scott is a renowned real estate investor, contractor, and host who has amassed a wealth of knowledge in real estate, remodelling, and renovation. His experience is invaluable when it comes to identifying the best opportunities and how to make the most out of every square foot, in any vacation property. In Vacation House Rules, he works his magic, transforming dated and subpar vacation homes into high-end, luxurious, and marketable properties destined to appeal to renters.
In each episode of Vacation House Rules, Scott meets with a family who owns a vacation home in need of renovation, and helps them transform it into a stunning and profitable rental. Scott is quick to point out that the renovations are not solely for the benefit of the homeowners; they're designed to turn vacation homes into profitable rental properties that can earn families passive income.
Scott begins the show by reviewing the property and assessing its layout and style. He then develops a plan for the renovation that is aimed at improving the attraction and marketability of the property. The design plan includes everything from upgrading the home's exterior, adding luxury amenities and home automation systems, to transforming the living spaces into cozy sanctuaries. Once the plan is in place, Scott begins the renovation process.
Throughout the process, Scott's crew address all aspects of the property, ensuring the final product is one that would attract and entice any vacationer. They work on everything from repainting walls, replacing fixtures, and installing new appliances, to knocking out walls and erecting new ones. They transform each vacation home from an outdated and run-of-the-mill space to one that is luxurious, elegant, and ultimately profitable.
The show is not just about amazing renovations but also educates viewers about the rental industry. Scott breaks down critical elements of renting vacation homes, such as how to price the property appropriately and use digital tools to increase bookings. Scott also advises on creating unique designs and spaces like game rooms, home theatres, and adding luxury items such as hot tubs and swimming pools that all add to the renters' experience.
Finally, without spoiling the show, it's worth noting that Scott works closely with the families throughout the renovation process, ensuring that they are happy with every decision and guiding their vision to make it a reality. The final reveal is always a wow moment, where families and viewers are enthralled by the stunning, luxurious transformation of the vacation home.
In conclusion, Vacation House Rules is a fun-filled, thrilling, and informative show that instills the importance of renovating and turning vacation homes into profitable rental properties. Scott McGillivray, together with his team and the homeowners, transform each home into a luxurious and relaxing retreat that renters will eagerly flock to. The show further demonstrates how incorporating value-adding amenities such as hot tubs, smart home automation technology, high-end finishes, and unique designs can help vacation rentals stand out, attract better bookings, and provide superior returns on investment.
Vacation House Rules is a series that is currently running and has 3 seasons (35 episodes). The series first aired on April 26, 2020.