Beast Legends
Beast Legends is a science fiction series following a team of researchers looking for legendary beasts. The team searches the world in pursuit of stories that have been told regarding mythological or unverified beasts. The series is a blend of science and fabrication, but the team grounds their studies with historical, animal and natural science facts. They provide a believable background for the evolution of each legend. Included in their presentations are the cultures of the people who claim to have seen the beasts. Understanding the culture these stores exist in gives one the insight into how the stories evolved. Some of the beasts discovered are; the winged lion, megajaws, fire dragon and the kraken.
Thursday 10:00 PM et/pt on Syfy

1 Season,

6

Episodes

September 9, 2010

/

10

Cast:

Francis Manapul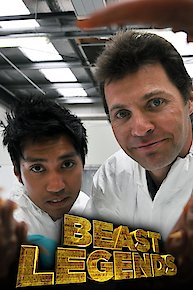 Beast Legends Full Episode Guide
The Beast Seekers search for the bird monster, believed to be the size of small airplane, in the Navajo regions of New Mexico.

Episode

5

-

Wild Man of Vietnam

The team heads to Vietnam in search of the Wildman, a similar beast to North America's Big Foot or Sasquatch.

The team travels to the Mongolian mountains in search of an airborne terror.

The Beast seekers journey to Fiji to learn about Dukuwaqa, the all-knowing Shark God.

The Beast seekers journey deep into the forests of Poland to investigate the legend of the fire breathing dragon, Smok.

Episode

1

-

Pilot - The Kraken

The Beast Seekers embark on a journey to investigate the Kraken, the sailor's legend of a terrifying multi-tentacled monster.
If You Like Beast Legends, Then Try...