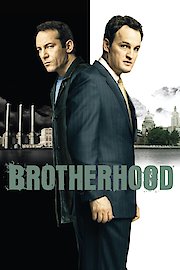 Watch Brotherhood
TV-MA
2006
3 Seasons
Brotherhood is an American television series that aired on Showtime from 2006 to 2008. The show starred Jason Isaacs and Nigel Gore in leading roles. The series was set in Providence, Rhode Island, and followed the lives of two brothers on opposite sides of the law.
Tommy Caffee (Isaacs) is a Democratic politician who belongs to a family with a long history of involvement in organized crime. He works as a member of the Rhode Island House of Representatives and is considered to be an up-and-coming star in the Democratic Party. Despite his successful career, Tommy is still heavily involved in his family's criminal activities and is constantly trying to balance his political aspirations with his loyalty to his brother, Michael.
Michael Caffee (Gore), Tommy's older brother, is a notorious criminal who has recently returned to Providence after a seven-year absence. Michael has been on the run from the law and is now seeking to re-establish his place in the family's criminal enterprise. He is the black sheep of the family and has a complicated relationship with his younger brother, Tommy.
The show also features a number of other characters who are either involved in the Caffee family's criminal activities or are working to bring them down. Among them are Declan Giggs (Ethan Embry), a corrupt cop who is in the Caffee family's pocket, and Detective Freddie Cork (Kevin Chapman), who is tasked with bringing down the Caffee family.
Throughout the series, Brotherhood explores themes of family loyalty, ambition, corruption, and the blurred lines between good and evil. The show offers a gritty and realistic depiction of the world of organized crime, as well as the political arena in which Tommy operates.
One of the key strengths of Brotherhood is its complex and nuanced portrayal of its characters. Tommy and Michael Caffee are both flawed characters who are often forced to make difficult moral choices. Despite their criminal activities, the audience is able to empathize with them and understand their motivations.
The show also features strong performances from its cast, particularly Jason Isaacs and Nigel Gore, who bring depth and nuance to their roles as the Caffee brothers. The supporting cast is also impressive, with standout performances from Ethan Embry and Kevin Chapman.
In addition to its compelling characters and performances, Brotherhood also offers a strong sense of place and atmosphere. The show is set in Providence, Rhode Island, and the city is depicted as a gritty and hardscrabble place, with a rich history and culture all its own.
Overall, Brotherhood is a well-crafted and engaging drama that offers a fresh take on the world of organized crime. With its strong performances, complex characters, and gritty realism, the show is a must-watch for fans of crime dramas and political thrillers.
Brotherhood is a series that is currently running and has 3 seasons (29 episodes). The series first aired on July 9, 2006.