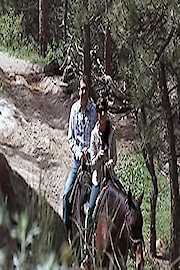 Watch Buying the Rockies
Buying the Rockies is a reality television show that aired on Destination America in 2015. It revolves around families looking to purchase a property in the stunning Rocky Mountains of the United States. Each episode follows a new couple or family on their quest to find their dream home in the Rockies. The show highlights the challenges they face when trying to balance their dreams with reality. The buyers want a beautiful panoramic view of the mountains, but they also need the property to be functional and practical to fit their lifestyle.
The show's host, Chris Dorsey, is an expert in mountain property and guides the buyers through the process. He provides valuable insight into the local area, including the climate, wildlife, and the unique challenges of mountain living.
The first part of each episode typically features the couple or family touring various properties with Chris. He shows them different options, detailing each property's features and what makes it unique. They then discuss the advantages and disadvantages of each property, and the buyers ultimately choose which homes they wish to pursue further.
The show also highlights the unique characteristics of the Rockies, including its stunning views, diverse wildlife, and the changing seasons. These elements make the Rockies a beautiful place to live but also bring significant challenges and considerations that buyers may not be aware of. Aspects such as accessibility during snowy weather, the location's exposure to avalanches, and the types of wildlife they might encounter are all factors that buyers must consider.
Throughout the series, the buyers' personalities and preferences bring added drama and excitement to the show. Some are looking for small, simple cabins tucked away in the mountains, while others desire luxurious lodges with modern amenities. Regardless of their individual tastes and preferences, the show illustrates the compromises they must make to find the perfect property.
Buying the Rockies also introduces viewers to the local communities surrounding the Rocky Mountains, where many of the buyers settle. The show celebrates the unique culture and traditions found in the Rockies, and the families show a genuine interest in the surrounding communities.
In conclusion, Buying the Rockies is an engaging and educational show, focused on families and couples looking to purchase their dream home in the beautiful Rocky Mountains. The show is informative, offering valuable insight into mountain living and the challenges that come with it. It is a perfect blend of drama, education, and exploration, allowing viewers to learn about the rockies' unique features while being entertained by the buyers' personalities and their search for the perfect home.
Buying the Rockies is a series that is currently running and has 1 seasons (10 episodes). The series first aired on July 13, 2015.