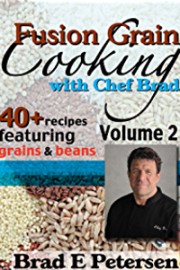 Watch Chef Brad: Fusion Grain Cooking
Chef Brad: Fusion Grain Cooking is a cooking show produced by BYUtv. The show is hosted by Chef Brad Petersen, who is a world-renowned chef and an expert in the field of whole-grain cooking. Chef Brad focuses on cooking with grains and demonstrates how they can be used in a variety of dishes to enhance both the flavor and nutritional value of the meals.
Each episode of Chef Brad: Fusion Grain Cooking features a different grain or group of grains, such as quinoa, millet, or sorghum. Chef Brad not only shows how to prepare these grains but also how to incorporate them into everyday dishes. For example, he might demonstrate how to make a hearty grain salad or how to use grains in a breakfast smoothie.
One of the unique aspects of Chef Brad: Fusion Grain Cooking is that the show is not just about cooking with grains as a side dish; it's about showing how grains can be the star of the meal. Chef Brad sets out to prove that you don't have to sacrifice flavor or creativity in order to eat healthy - in fact, using whole grains can achieve just the opposite.
Throughout the show, Chef Brad also provides helpful tips and tricks for cooking with grains. For example, he might demonstrate how to properly rinse grains or how to cook them to get the best texture. Additionally, he often shares information about the nutritional benefits of different grains, such as their protein or fiber content.
One thing that sets this cooking show apart from others is the production value. The show is filmed in a beautiful kitchen with high-quality cameras and lighting. It's clear that a lot of effort has been put into making the show visually appealing and engaging for the audience.
Another aspect of the show that viewers will appreciate is Chef Brad's personality. He comes across as approachable and down-to-earth, which makes the show feel more accessible than some other cooking shows. He's also clearly passionate about cooking with grains and has a wealth of knowledge to share with viewers.
Overall, Chef Brad: Fusion Grain Cooking is a fantastic cooking show for anyone looking to incorporate more whole grains into their diet. The show is both educational and entertaining, and viewers are sure to come away with some new ideas for how to incorporate grains into their meals. Chef Brad is a great host and a talented chef, and the production value of the show is top-notch. Whether you're a seasoned home cook or just starting out in the kitchen, this show is definitely worth checking out.
Chef Brad: Fusion Grain Cooking is a series that is currently running and has 3 seasons (38 episodes). The series first aired on October 23, 2012.