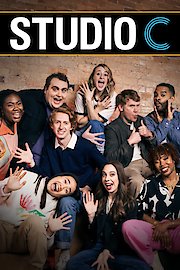 Watch Studio C
2012
17 Seasons
Studio C is a sketch comedy show that first aired on BYUtv in October 2012. The show features a talented cast of comedians, including Whitney Call, Mallory Everton, Jason Gray, Matt Meese, and several others who contribute to the show's hilarious and often outrageous skits.
Each episode of Studio C follows a similar format, with the cast performing a series of short sketches that skewer everything from pop culture to politics to everyday life. The sketches vary in length, but most are around three to five minutes long and are filmed in front of a live audience. Many of the sketches also include musical numbers and other comedic bits, such as fake commercials and parodies.
One of the standout features of Studio C is the show's incredible writing. The sketches are consistently funny and well-crafted, with clever twists and unexpected punchlines that keep viewers on their toes. The cast members also have excellent comedic timing and chemistry, which helps to elevate the material even further.
Another key element of Studio C's success is its broad appeal. The show's humor is often silly and absurd, but it never feels mean-spirited or offensive. This makes it a great choice for families to watch together, as well as for viewers who are looking for a good laugh without the need for crass or vulgar humor.
Over the course of its run, Studio C has produced a wide variety of memorable sketches. Some of the most popular recurring characters include Captain Literally, a superhero who takes things a little too literally; the Awkward Avoidance Viking, who shows up at the worst possible times; and the Shoulder Angel and Devil, who offer conflicting advice to people in moral dilemmas.
Other sketches tackle more serious topics with a comedic twist, such as a sketch about a man who takes his love of traffic cones a little too far or a parody of The Hunger Games called "The Hunger Games: Waiting for the Elevator."
Throughout its run, Studio C has continued to evolve and experiment with new styles and formats. In addition to the traditional sketch comedy segments, the show has also produced longer narrative sketches, musical specials, and even a full-length feature film.
Overall, Studio C is a delightful showcase of some of the most talented comedic minds working today. With its clever writing, impeccable timing, and all-around good-natured silliness, the show is sure to bring a smile to the face of anyone who watches.
Studio C is a series that is currently running and has 17 seasons (211 episodes). The series first aired on October 9, 2012.