Watch The Graham Norton Show
The Graham Norton Show is a television talk show hosted by comedian and actor Graham Norton. This is a U.K. show that is taped before a live studio audience. Each episode runs for approximately one hour and usually features three guest stars and one musician. The main part of the program consists of interviewing the guests and a musical performance at the conclusion of the show.
Graham is known for having a diverse mix of celebrities on at any one time. Some panels of guests include Chris Rock with Marilyn Manson and Liam Neeson with Patrick Stewart. Graham also gets the audience involved with each episode.
The Graham Norton Show is not a traditional talk show in that it does contain sketches and sometimes crazy acts that he has not only the audience but, the guest celebrities participate in as well. In one instance he talked Liam Neeson into calling a women's cellphone number and leaving a message as his character from the movie Taken. Actor Gabriel Byrne was given the job of speaking to anyone who happened to use the public men's room during an episode and Joan Rivers had the task of fashion critic for the guests as they lined a fake red carpet on the way into the studio.
Many of the things that Graham Norton has the celebrity guests or audience participate in are embarrassing and also funny. He does however give out prizes to the people who are unlucky enough to be chosen for his latest activities. Some of which include gift certificates and vacation vouchers.
For the celebrity that is lucky enough to be involved with a show sketch, a parody based on the television show or movie they are famous for is usually what is in store for them. In one episode Cynthia Nixon got to reprise her role as Miranda in the Golden Girls version of Sex and the City. Here all the girls were women in there sixties or older.
With The Graham Norton Show you never know what is in store for the guests or the audience but, you are guaranteed to laugh.
Saturday 10:00 pm on BBC One

24 Seasons,

265

Episodes

February 22, 2007

/

10

Cast:

Graham Norton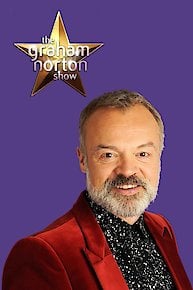 The Graham Norton Show Full Episode Guide
Episode

3

-

Whoopi Goldberg, Jamie Dornan, Rosamu...

Whoopi Goldberg, Jamie Dornan, Rosamund Pike, Harry Connick Jr., BTS

Episode

2

-

Rowan Atkinson, Jamie Lee Curtis, Gar...

Rowan Atkinson, Jamie Lee Curtis, Gary Barlow, Jeff Goldblum, Imelda May

Episode

1

-

Bradley Cooper, Lady Gaga, Jodie Whit...

Graham is joined by multi-Oscar-nominated Bradley Cooper and pop superstar Lady Gaga, together in the hotly anticipated musical romance A Star Is Born; Broadchurch star Jodie Whittaker, about to begin her new incarnation on BBC1's Doctor Who; double Oscar nominee Ryan Gosling, playing astronaut Neil Armstrong in biopic First Man; and the legendary Rod Stewart, who performs his current single Didn't I.
Episode

3

-

Benedict Cumberbatch, Matt LeBlanc, M...

Graham is joined by Oscar nominee Benedict Cumberbatch, playing Dr Strange in Avengers: Infinity War, Matt LeBlanc, playing himself in the final series of Episodes, and actress Maxine Peake, playing a 70s club comedian in Lucky Cow. Plus music from Calvin Harris featuring Dua Lipa, performing new single One Kiss.

Episode

2

-

Dwayne Johnson, Naomie Harris, Martin...

Graham is joined by Dwayne 'The Rock' Johnson and Oscar-nominated star of Moonlight and James Bond Naomie Harris, starring together in monster movie Rampage, and Sherlock and The Hobbit star Martin Freeman, appearing in horror anthology Ghost Stories. Roger Daltrey performs his new single As Long as I Have You.

Episode

1

-

Emily Blunt, John Krasinski, Tom Holl...

Graham is joined by The Devil Wears Prada and Girl on a Train star Emily Blunt and American Office star John Krasinski, who appear together in new horror movie A Quiet Place, and Tom Holland, who is reprising the role of Spider-Man in new Marvel film Avengers: Infinity War. Pop star and actress Kylie Minogue performs her new single Stop Me from Falling, from the album Golden.
Season
12
47 clips available
Season
11
27 clips available
Season
10
255 clips available
Most Popular The Graham Norton Show Episodes
The Graham Norton Show News