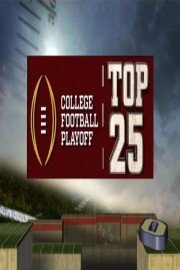 Watch College Football Playoff: Top 25
College football is one of the most popular sports in the United States, with millions of fans tuning in during the fall season to watch their favorite teams battle it out on the field. The College Football Playoff: Top 25 show on ESPN is a weekly program that brings viewers the latest news, analysis, and rankings of the top teams in the country.
The show is hosted by a team of experts, including former players, coaches, and journalists who have a deep understanding of the game and its history. Each week, they discuss the latest developments in the college football landscape, including the top games from the previous week and upcoming matchups that are sure to capture the attention of fans.
One of the main focuses of the show is the College Football Playoff rankings, which are released each week during the season. These rankings are used to determine which teams will be selected for the playoff at the end of the year, with the top four teams earning a spot in the semifinals.
The College Football Playoff: Top 25 show provides detailed analysis of each team's performance, including their strengths and weaknesses on both offense and defense. Viewers can expect in-depth discussions of key players and coaches, as well as insights into the team's overall strategy and game plan.
In addition to the rankings, the show also covers other important topics related to college football. This includes news and updates on player injuries, coaching changes, and other developments that may affect a team's performance.
The College Football Playoff: Top 25 show also features interviews with players, coaches, and other notable figures from around the college football world. These interviews provide insight into the personalities and motivations of the people that make college football such a compelling sport to watch.
Overall, the College Football Playoff: Top 25 show on ESPN is a must-watch for any fan of college football. Whether you're a die-hard supporter of one particular team or just love the sport in general, this show provides an unparalleled look at the top teams and players in the country. With its expert analysis, in-depth coverage, and engaging interviews, it's the perfect way to stay up-to-date on all the latest developments in college football.