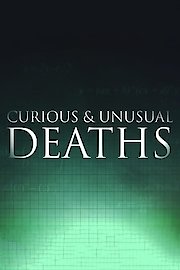 Watch Curious and Unusual Deaths
TV-14
2009
2 Seasons
Curious and Unusual Deaths is a captivating show that premiered on the Crime & Investigation Network in 2009. The show takes a fascinating look at some of the most bizarre and perplexing deaths that have occurred throughout history. Each episode explores a different case, from the seemingly unexplainable to the downright absurd.
The show is hosted by Steve Herringer, Lou Bloomfield, and Peter Lin, all of whom bring their unique expertise to each episode. Herringer is a former forensic investigator, while Lin is a medical examiner, and Bloomfield is a physics professor. Together, they analyze each case from multiple angles, providing viewers with a comprehensive understanding of what happened and how.
Throughout the show, Herringer, Bloomfield, and Lin use a combination of reenactments, expert interviews, and cutting-edge technology to piece together each story. They examine the evidence, explore different scenarios, and shed light on the circumstances that led to each death. They also offer valuable insights into the forensic techniques used to solve each case and the lessons that can be learned from them.
One of the standout features of the show is its attention to detail. Each episode is meticulously researched and presented in a way that is both informative and entertaining. Viewers are taken on a journey into the past, uncovering the fascinating details of each case and understanding the factors that contributed to each strange and unusual death.
Some of the cases featured on the show include a woman who died from a fatal allergic reaction to her partner's sperm, a man who was killed by his pet camel, and a woman who was struck by a meteorite while sitting in her living room. These cases may sound like something out of a Hollywood blockbuster, but they are all based on real incidents that have occurred throughout history.
Curious and Unusual Deaths is a show that will appeal to anyone with an interest in true crime, forensic investigation, or the bizarre and unusual. The show does an excellent job of balancing entertainment with education, providing viewers with a gripping and informative look at some of the most perplexing cases in history.
Overall, Curious and Unusual Deaths is a must-watch for anyone who enjoys shows that explore the darker side of human nature. The show is smart, engaging, and full of fascinating insights that will leave viewers thinking long after the final credits have rolled.