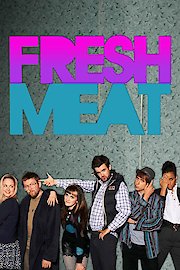 Watch Fresh Meat
Fresh Meat is a British comedy-drama television series that originally aired from 2011 to 2016. It follows six university students who decide to live in a shared house during their first year at Manchester Medlock University. The show stars Zawe Ashton as Vod, a wild and rebellious student who is always up for a good time. She often clashes with her housemates and struggles to balance her social life with her studies. Greg McHugh plays Howard, a socially awkward, highly intelligent student who often feels out of place among his more outgoing housemates. He is constantly mocked for his lack of social skills but ends up forming unlikely friendships throughout the series. Kimberley Nixon plays Josie, a sweet and sensitive student who is looking for love and acceptance. She often struggles to stand up for herself but becomes more assertive as the show progresses.
Other main characters include JP (Jack Whitehall), a privileged and arrogant student who is used to getting his way. Kingsley (Joe Thomas) is a sweet and earnest student who is constantly pining after Josie. Finally, there is Oregon (Charlotte Ritchie), a ambitious and cunning student who is always looking for ways to advance her career.
Throughout the series, the group navigates the ups and downs of university life, from partying and dating to the pressures of coursework and exams. They also grapple with more serious issues, such as mental health, sexuality and identity, and the struggles of coming from different socioeconomic backgrounds.
Despite their differences, the group quickly becomes a tight-knit community, supporting each other through their various crises and triumphs. They confront their own shortcomings and learn to accept each other for who they are, flaws and all. Along the way, they also make unexpected connections with other students and faculty members, leading to some unlikely alliances and unexpected romances.
Fresh Meat deals with mature themes in a lighthearted and comedic way, making it a relatable and entertaining coming-of-age story. The show is known for its sharp writing, witty banter, and relatable characters. It also explores important issues facing young people today, such as mental health, alcohol and drug use, and the challenges of finding one's place in a rapidly changing world.
Overall, Fresh Meat is a hilarious and heartwarming series that will resonate with anyone who has gone through the ups and downs of university life. It offers a fresh take on the traditional college comedy, with a diverse and relatable cast of characters who will keep you laughing and rooting for them until the very end.
Fresh Meat is a series that is currently running and has 2013 seasons (32 episodes). The series first aired on September 21, 2011.