I Can't Believe I'm Still Single
Monday 1:00 AM et/pt on Showtime

2 Seasons,

24

Episodes

June 22, 2008

/

10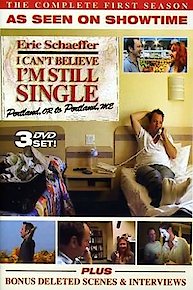 I Can't Believe I'm Still Single Full Episode Guide
Eric dates a reality television star in Las Vegas, then competes against Mark in a swimming contest.

Eric dates a spiritual-minded yogi in Denver and ponders a debated question.

Eric dates a disc jockey from Kansas but suffers after dining on fast food.

Eric has a date in Chicago with a woman from Miami.

Eric causes a mutiny in his film crew; a single mother dates Eric during a blizzard in Michigan.

Eric drives across Canada to have dinner with his father; Mark and Eric look to buy female companionship.

Eric dates a Roller Derby queen in Vermont.

Eric continues his search with Alicia, Adi and Mela

Eric Shaeffer continues his search with Lauren...

Eric's journey begins with Wendy Ho.
While in Denver, Eric hits on blonde women with dogs, attends yoga class, visits philosopher Ken Wilber, and ultimately contemplates relocating.

Eric and his new friend face the morning after; Eric drives through an Arizona traffic jam to visit his therapist.

Eric embarks on a mission to convince a MySpace friend to accompany him on his road trip.

Eric counsels a friend en route to Las Vegas, then has a quick encounter at a truck stop.

Eric meets some Mormon women in Salt Lake City and interviews a born-again Christian woman.

Eric becomes convinced that truckers are trying to drive him off the road; Eric tries to convince a British fan to come meet him.

Eric interviews an old friend and juggles three ex-girlfriends at the same book reading.

Eric rushes to make it to a Portland meeting, but stops for a five-minute meditation in the Redwoods.

Eric encounters an eclectic group of fans in Mendocino, Calif., then interviews a couple about their true-life fairy tale love story.

Eric tells tales of his dominatrix experience, and meets a group of musicians traveling the world by bus.

Eric visits a desert spa for a colonic, sets up a date with a musician in San Diego, and meets family members at a reading.

Eric meets up with a dominatrix in New York and dates a brunette in Hollywood.
If You Like I Can't Believe I'm Still Single, Then Try...