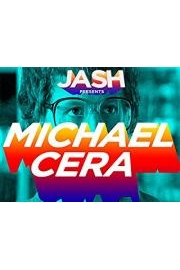 Watch JASH Presents Michael Cera
JASH Presents Michael Cera from JASH is a comedy web series created by Michael Cera, a renowned Canadian actor and comedian. The show aired in 2014 and comprises a total of six episodes, each one lasting around five minutes. The show features Michael Cera, who is known for his quirky and awkward style of humor, as he navigates different settings and situations. In each episode, he is accompanied by various guest stars, including comedians like Aubrey Plaza and Tim Heidecker, who add their own unique brand of humor to the show.
The episodes are each shot in a single take, giving them a raw and unscripted feel. This format allows Michael Cera and his guests to interact freely, making jokes and riffing off of each other to create spontaneous moments of hilarity.
The first episode of the show, titled "Stoned Alone," follows Michael Cera as he films himself smoking marijuana and talking openly about his experience with the drug. The episode is a candid and funny look at the way that cannabis use has become more widely accepted in society, and it sets the tone for the rest of the series.
Another episode, titled "Hitler's Secret," sees Michael Cera interviewing a whacky conspiracy theorist who claims to have uncovered evidence that Hitler had survived World War II and was hiding in a secret underground lair in Argentina. The interaction between Michael Cera and the guest is both absurd and hilarious, showcasing the unique chemistry that can arise when two comedians bounce ideas off of each other.
Other episodes in the series include "Failure," in which Michael Cera explores the ups and downs of his own career as an actor and comedian, and "Wedding," where Michael Cera plays a guest at a wedding who is desperate to speak to the bride but keeps getting sidetracked by other guests.
One notable aspect of JASH Presents Michael Cera from JASH is the way that it incorporates different styles of comedy. Some episodes have a more improvisational, "in-the-moment" feel, while others are more scripted and structured. This varied approach keeps the show fresh and interesting, as viewers never know quite what to expect from one episode to the next.
Overall, JASH Presents Michael Cera from JASH is a witty and offbeat comedy series that showcases Michael Cera's unique sense of humor and his talent for improv. It offers a fresh and entertaining take on a variety of comedic themes, and its short runtime makes it an easy and enjoyable watch for anyone looking for a good laugh.