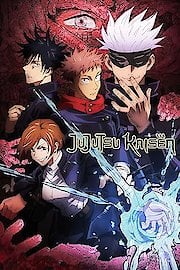 Watch Jujutsu Kaisen
TV-MA
2020
2 Seasons
Jujutsu Kaisen is a Japanese anime television series that was released in 2020. Created by Gege Akutami, the show revolves around sorcerers and the supernatural world they inhabit. The show has gained a lot of popularity among anime fans for its fast-paced action, gripping storyline, and well-developed characters.
The show's plot is centered around Yuji Itadori, a high school student with impressive physical ability but little interest in spiritual matters. However, after coming into contact with a cursed object containing a powerful curse spirit named Sukuna, Yuji becomes a vessel for the evil entity and is recruited by sorcerer Satoru Gojo to become a jujutsu sorcerer.
As a jujutsu sorcerer, Yuji is tasked with exorcising cursed spirits that threaten humanity. Alongside his fellow students and mentors at the Tokyo Metropolitan Curse Technical College, Yuji trains to hone his jujutsu skills and gain the strength he needs to defeat Sukuna once and for all.
One of the most impressive aspects of Jujutsu Kaisen is its unique and creative approach to supernatural lore. The world of jujutsu sorcery is a complex one, with a variety of curses, spirits, and techniques that are both fascinating and terrifying. The show doesn't shy away from exploring the darker side of the supernatural, showing the gruesome consequences of curses and the emotional toll that exorcism can take on sorcerers.
Another strength of Jujutsu Kaisen is the depth and complexity of its characters. Each member of the cast has a unique personality and backstory that is explored throughout the show. Yuji, in particular, is a compelling protagonist. He's not a perfect hero, but rather a flawed and relatable character who struggles with the weight of his responsibilities as a jujutsu sorcerer.
The action scenes in Jujutsu Kaisen are also a major draw for audiences. The show features dynamic fights that are impeccably choreographed and visually stunning. Each character has their own unique fighting style and techniques, adding to the excitement and unpredictability of the battles.
The animation and art style of Jujutsu Kaisen are also noteworthy. The show is beautifully rendered, with vibrant colors and striking visual effects. The animation is fluid and dynamic, adding to the impact of the action sequences. Overall, the show is a treat for the eyes, with every frame carefully crafted to transport viewers to the supernatural world of jujutsu sorcery.
In terms of themes, Jujutsu Kaisen explores a wide range of issues, from the nature of good and evil to the importance of friendship and teamwork. The show doesn't shy away from darker topics, such as death, loss, and trauma, but it also balances these with moments of humor and heartwarming camaraderie.
One of the most impressive things about Jujutsu Kaisen is the way it manages to balance all these elements seamlessly. The show is a thrilling action series, a thought-provoking exploration of morality and spirituality, and a heartfelt coming-of-age story all in one. It's a testament to the skill and creativity of the show's creators that they're able to pull off such a multifaceted narrative with such finesse.
Overall, Jujutsu Kaisen is a must-watch for fans of anime and action series. It's a masterful blend of stunning animation, complex characters, and gripping storytelling that is sure to leave viewers eagerly anticipating the next episode. Whether you're a seasoned anime fan or a newcomer to the genre, Jujutsu Kaisen is a show that is not to be missed.
Jujutsu Kaisen is a series that is currently running and has 2 seasons (31 episodes). The series first aired on October 3, 2020.