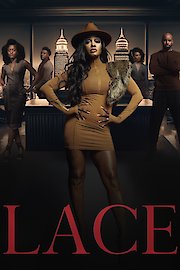 Watch Lace
Lace is an American drama television series that premiered on the streaming platform ALLBLK in 2021. The series was created by Toy Lei, the screenwriter behind the Starz drama series P-Valley. Lace is a thrilling story about three women who seek to uncover the truth about their father's mysterious death. The show follows their journey as they unravel secrets, navigate through complicated relationships, and deal with their own personal demons.
The main characters of the show are three sisters - Denise played by Maryam Basir, Jade played by Skyh Black and Carmen played by Tanyell Waivers. They are all different and bring a unique perspective to the story, making their collaboration diverse and riveting. Denise is a successful businesswoman who always has things under control, but beneath the calm exterior lies a troubled past. Jade is a single mother who is struggling to make ends meet, and Carmen is a formerly incarcerated inmate, who is now out on parole.
The sisters reunite at their father's funeral and soon realise that his death was not as straightforward as it seems. The family secrets begin to surface, and tensions rise as the sisters come to the realization that their father may have been involved in some shady dealings. Before they know it, they are swept up in a dangerous web of lies that puts their lives in danger.
Lace features a wide range of compelling characters, including a corrupt detective, a gang member, and an ex-boyfriend, all of whom have links to the sisters' father. The police detectives assigned to the case are portrayed as corrupt and incompetent, leaving the sisters no choice but to take the investigation into their own hands. The personal lives of the characters are also interwoven with the central storyline, adding layers of complexity to the narrative.
The show is set in Los Angeles and offers a glimpse into the city's seedy underbelly. The cinematography captures the city's gritty and dark atmosphere, accentuated by the ominous soundtrack. The themes of crime, family drama, and sisterhood are all explored in Lace, making it an engaging and thought-provoking series. The show also tackles social issues such as class inequality, police brutality, and the prison-industrial complex.
The acting in the show is top-notch, with each of the three leading ladies delivering standout performances. Maryam Basir brings a quiet intensity to her role as Denise, while Skyh Black's portrayal of Jade is vulnerable and nuanced. Tanyell Waivers adds depth to her character, Carmen, portraying her as a complex yet sympathetic character.
In conclusion, Lace is a gripping and thrilling drama that keeps audiences on their toes. The show's well-crafted storyline, combined with excellent acting and cinematography, makes it an engaging and unforgettable series. It is a show that explores the themes of family, crime, sisterhood, and social issues that will leave viewers hooked until the very end. Lace is a must-see for anyone who enjoys a good mystery and drama.
Lace is a series that is currently running and has 2 seasons (14 episodes). The series first aired on November 4, 2021.