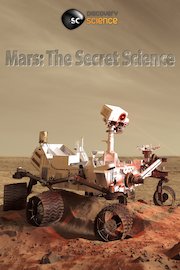 Watch Mars: The Secret Science
"Mars: The Secret Science" is a documentary series from Science Channel that explores the possibility of human habitation on Mars. Over the course of six episodes, the series delves into the science and technology necessary to achieve a manned mission to the Red Planet.
The series is hosted by Dr. Michio Kaku, a theoretical physicist and futurist who serves as a guide through the complexities of space travel and terraforming. Kaku's enthusiasm for the subject matter is infectious, and his explanations are clear and concise.
The first episode sets the stage for the series, exploring the history of Mars exploration and the challenges faced by early missions. The series then moves on to examine the current state of Mars research, including the planned 2020 Mars mission by NASA.
One of the most interesting aspects of the series is its focus on the science of terraforming, the process of making a planet habitable for humans. This includes not only the physical changes necessary to sustain life, but also the psychological and cultural challenges of living in a completely different environment.
Throughout the series, experts in fields ranging from astrophysics to microbiology to psychology share their knowledge and insights. Viewers will learn about the potential dangers of radiation on Mars, the challenges of growing food in a hostile environment, and the potential for life to exist on the planet.
The series also spends time examining the technological advancements necessary for a successful Mars mission. This includes a look at the current state of rocket technology and propulsion systems, as well as the development of new technologies such as AI and robotics.
One notable aspect of "Mars: The Secret Science" is its focus on the human element of space travel. The series explores the psychological challenges of living in a small, isolated community for an extended period of time, as well as the potential for conflicts and rivalries to develop.
Overall, "Mars: The Secret Science" is a fascinating look at the potential for human habitation on Mars. The series combines cutting-edge science with an exploration of human nature, making for an engrossing and thought-provoking viewing experience.
Mars: The Secret Science is a series that is currently running and has 1 seasons (7 episodes). The series first aired on November 14, 2016.