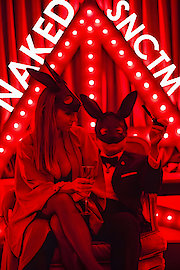 Watch Naked SNCTM
TV-MA
2017
1 Season
Naked SNCTM was a Showtime television series that aired in 2017 and 2018. The show centered on the exclusive sex club SNCTM, and the weekly parties thrown there. Damon Lawner, the founder and leader of SNCTM, was a featured member of the show, alongside Osa Grekov and Camille January Straughn.
The series focused on the parties thrown by SNCTM, which were invitation-only and took place at various locations around Los Angeles. The parties were attended by a mix of celebrities, wealthy businesspeople, and regular members of the club. While the parties were open to all sexual orientations, the primary focus was on heterosexual couples.
Each episode of Naked SNCTM followed the same format. Damon Lawner would introduce the episode and describe what kind of party it was going to be. The cameras would then follow Lawner as he prepared for the party, including setting up the venue and receiving deliveries of expensive wine and other luxury items.
Once the party had started, the cameras would capture the various activities taking place. This included dancing, drinking, and flirting. Some couples would retire to private rooms for more intimate encounters.
The show also featured interviews with various members of SNCTM, who shared their experiences of the club and what they enjoyed about the parties. Many spoke of the liberation they felt in being able to express their sexuality in a safe and consensual way.
Despite the focus on sex, the show was shot in a tasteful way and did not show any explicit sexual content. This was in keeping with the ethos of SNCTM, which was more focused on creating a glamorous and exclusive experience than on pure sexual gratification.
One of the most intriguing aspects of Naked SNCTM was the mystery surrounding the club. Members were forbidden from discussing it with outsiders, and the location of the parties was kept a closely guarded secret. This added an air of exclusivity and excitement to the show, as viewers were given an inside look at a world that was normally closed off to them.
Naked SNCTM was not without controversy, however. Many critics accused the show of promoting an unhealthy view of sexuality, and of objectifying women. Others argued that the show was a celebration of sexual freedom and empowerment, and that the participants were all consenting adults.
Despite the mixed reviews, Naked SNCTM was a hit with many viewers, and remains a fascinating look at a subculture that is usually kept under wraps. The show was cancelled after just one season, however, leaving many fans disappointed and curious about what might have happened next.
Naked SNCTM is a series that is currently running and has 1 seasons (10 episodes). The series first aired on August 17, 2017.