Patton Oswalt: Tragedy Plus Comedy Equals Time
A 2014 comedy special, the show is a hilarious forum for the comedic stylings of Patton Oswalt.Oswalt discusses many topics such as his daughter, performing, and ladies of the evening. Oswalt relates a story in which he is out with his daughter in a public setting, when she looks and points at a man and tells Oswalt that the man is a monkey. The African-American individual takes notice and Oswalt picks up his daughter and rushes her out of the coffee shop, babbling incoherently as he whisks her away. The show features many depictions of alcohol consumption and coarse language.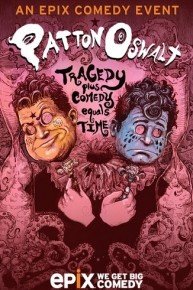 Patton Oswalt: Tragedy Plus Comedy Equals Time Full Episode Guide
Patton Oswalt's comedy show include topics about a variety of modern problems, from our nations future to daddy/daughter outings that went wrong.